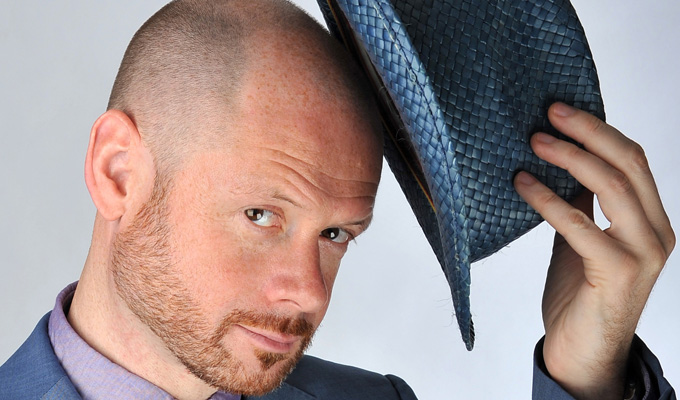 Alistair Barrie
Alistair Barrie: The InternationAL
With no less a stated aim than uniting the entire human race, Alistair Barrie's latest show is rarely so high-concept. In fact, it might more accurately be described as a man with a mic, telling consistently good jokes for an hour.
Bemoaning the death of rational thought, seeing divided opinion everywhere, he looks to Twitter for some idea of where he fits in, returning with the answer that he's a 'libtard snowflake aunt' – at least according to autocorrect.
Resisting newer definitions of liberal, he nevertheless indulges the idea of the snowflake, whinily impersonating the younger, touchier, disenfranchised generation in a caricature that's as energetic as it is exaggeratedly funny.
Comics have some claim to be society's bellwethers and he perceives a hike in the number of people being offended nowadays. Though hardly a new thought, he's certainly got the anecdotal evidence to back it up, recalling the outraged audience member who took him to task for using Syria as an example of somewhere horrible.
Equally, he gets plenty of mileage from sending up the 'PC gone mad' brigade, pointedly refusing to take the bait when some old buffer tries to engage him in his prejudice.
Because against the odds, it transpires that Barrie has a stake in the future of society, becoming a parent in his 40s and wondering what kind of world his daughter will inhabit. While not explicitly calling Brexit Leave voters racist, he notes them working towards the same cause, but then mischievously allows his prejudices about various European nations full rein.
It's the ingenuity of the arguments and the roguish glint in the eye that allows him to get away with such sweeping generalisations, an approach he also applies to fatherhood, where he dutifully follows his wife's lead.
Amusingly incredulous on the perverted power-trips of Harvey Weinstein, he's nevertheless got his own, somewhat surprising #MeToo experience. Related matter-of-factly, he doesn't even have jokes about it. But he acknowledges that in the current climate, to not mention it would be an omission. And certainly, it bolsters his argument against defenders of sexual harassers like Catherine Deneuve and their patron saint, Donald Trump.
After his last Fringe show about his wife's breast cancer earned him award nominations, he could hardly resist talking about their efforts to conceive, though rather unfortunately in the context of a Fringe show, there's nothing like the same drama here. So instead he imagines the reluctance of his lacklustre, aged sperm, a cartoonishly funny closing routine for a topically on-point but varied, very funny hour.
Read More
Published: 26 Aug 2018
Can you joke about cancer? As a long-standing regular…
13/08/2015
There are a lot of new act competitions. Too many,…
14/07/2015
How astute of them to put the ethos of the show in…
4/02/2013
What most Edinburgh shows wouldn't give to be the…
8/08/2012
It's five years since I last reviewed Alistair Barrie.…
7/08/2012
The British Library is fast becoming an unlikely fixture…
19/01/2011
Alistair Barrie hits the ground running and rarely…
23/08/2009
When is a tour not a tour? Normally a comic might come…
1/01/2007
Alistair Barrie is an experienced circuit compere,…
1/01/2007
Most Australians, if very few Brits, will already know…
1/01/2007
Alistair Barrie is about as close to the stereotypical…
1/01/2004
As yet another middle-class white male comedian, it…
1/01/2002
The casually urbane Alistair Barrie has an inherent…
1/03/2001
Past Shows
Agent
We do not currently hold contact details for Alistair Barrie's agent. If you are a comic or agent wanting your details to appear on Chortle, click here.