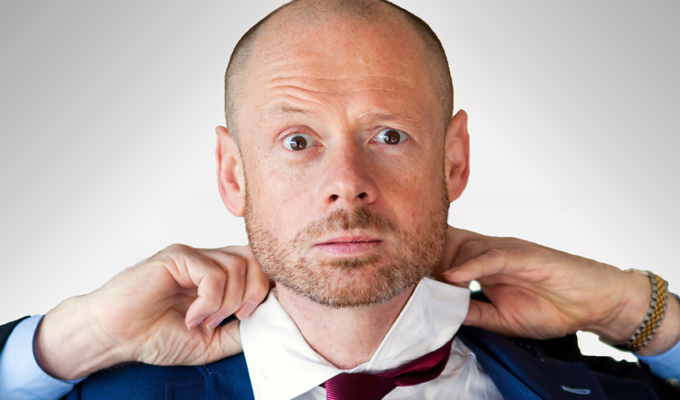 Alistair Barrie: No More Stage 3
Note: This review is from 2015
Can you joke about cancer?
As a long-standing regular with the Comedy Store's topical Cutting Edge nights, Alistair Barrie is used to making bad-taste quips about pretty much every large-scale tragedy to hit the headlines. But this was a topic that struck closer to home, after his wife Emily was diagnosed with the disease earlier this year, soon after their marriage.
'Instant Edinburgh show!' Some of his comedian mates cried with gallows humour, since everyone's aware of the now-cliched 'dead dad show' that uses tragedy to give a comedy hour some gravitas. 'Virtually critic-proof' Barrie calls those sorts of shows.
Of course it's not as easy as that, and the topic needs careful navigating. The awful condition and its just-as awful treatment might be the basis for the show, but the lows are not dwelled upon. It is a show about finding humour in the periphery, based on the unusual situations the newlyweds found themselves in – from the poor choice of music in the chemo ward to the bastards at EasyJet refusing to show an ounce of compassion when it came to refunding flights.
A sense of humour – in its place – is obviously one of the things helping the couple through their ordeal, and Barrie keeps the mood entertaining, a sturdy hand of 15 years' stand-up experience on the tiller. It is not a LOLfest – as you might imagine given the subject – but it is full of warmth and good humour in the face of adversity.
There's some slick, high-end comedy before the main story kicks in, too, as Barrie explains his mixed feeling about moving from London to settle down in Hertfordshire with Emily in the first place, introducing his dog to the narrative – and hilariously recalling the time he took drugs in Costa Rica. It all serves to keep the atmosphere light without underplaying the seriousness of cancer.
No More Stage Three will surely be a boon to anyone else who's been through the same thing, as several of those thanking Barrie as they popped collection bucket at the end seemed to attest.
For everyone else, it'll give sage advice on how to interact with cancer sufferers – don't throw God down their throats, basically – and show that there can still be joy after diagnosis.
Review date: 13 Aug 2015
Reviewed by: Steve Bennett
Reviewed at: Subway
Recent Reviews
What do you think?