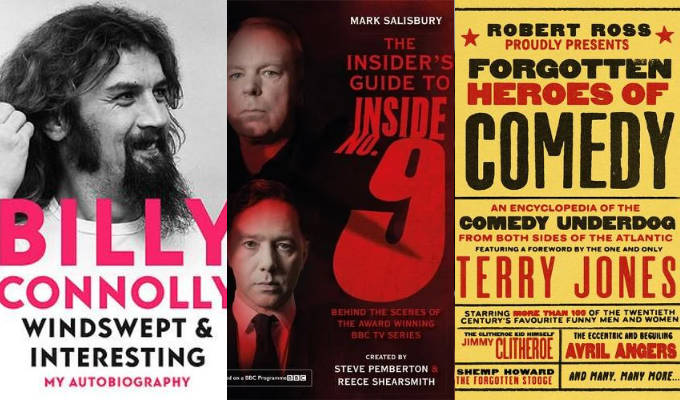 Christmas book guide: Billy Connolly, Inside No 9 and Forgotten Heroes of Comedy
Looking for some last-minute gift ideas for the comedy fan? Here's the first part of our round-up of the top comedy-related books out this season...
WINDSWEPT AND INTERESTING by Billy Connolly
Billy Connolly's autobiography is frank and funny, underpinned by optimistic message of triumph against the misery of his youth, when he was sexually abused by his father and physically and mentally abused by the aunt who raised him and the nuns who supposedly taught him. However his real education came on the shipyards and then the folk clubs of Glasgow.
What this book is not, however, is revelatory. This was was all told in Pamela Stephenson's definitive biography of her husband, entitled Billy, almost two decades ago. And the Big Yin has been subject to so many deservedly glowing tributes since announcing the end of his stand-up career that his life story feels like old news. And that's even before considering how many anecdotes he's told on stage in a 50-year stand-up career.
His breakthrough on Michael Parkinson's chat show, telling his risque joke against the advice of his agent, is well-known, as are the stories of how his drinking spiralled out of control as he embraced the rock and roll lifestyle of the 1970s version of the wandering minstrel.
Nonetheless, it's cheering to read the anecdotes in Connolly's authentic voice. And, unsurprisingly given his approach to stand-up, this book is full of wild digressions, leaping around in time depending on what anecdote occurs to him and interspersed with his opinions in the moment.
That, and his natural wit, ensures Windswept And Interesting is no misery memoir. Well, that and the fact his mammoth success is a screw you to his abusive Aunt Mona. He recalls how she beat and kicked him, 'but her speciality was humiliation - grabbing me and rubbing my dirty underwear in my face… The worst thing was that she instilled in me a belief that I was useless. In my adult life it has been an enormous pleasure — and my greatest ambition — to prove her wrong.'
He is the definition of a self-made man. He learned the art of comic storytelling from the 'patter merchants' who worked alongside him in the shipyards, then started practising it when hanging out with the motorcycle gangs, making them laugh.
And he still is a hugely cheering force. His well-documented health problems may have dimmed his intensity, but Windswept And Interesting is an entertaining – and occasionally poignant - read.
• Windswept & Interesting: My Autobiography by Billy Connolly, is published by Two Roads at £25. It is also available from Amazon for £12.50
THE INSIDER'S GUIDE TO INSIDE NO 9 by MARK SALISBURY
This lovingly-compiled companion volume to the most inventive and unpredictable comedy show of modern times is the perfect gift for any fan… even if you give it to yourself.
With the blessing of creators Steve Pemberton and Reece Shearsmith –and plenty of contributions from them both – Mark Salisbury goes behind the scenes of all 31 episodes of the first five series. That's from Sardines, which premiered in February 2014, to The Stakeout, which aired in March last year. This summer's sixth series will have to wait for a future volume.
It's generously illustrated. Each chapter starts with the mock film posters created for every episode – and in a diversity of styles to match the aesthetic of each story – and includes plenty of candid photos from the set. There are pages from Pemberton's notebooks, costume sketches, concept sketches and plans of some of the sets, right down to camera positioning – and so much more.
Each chapter is full of trivia – did you know, for example, that possible early titles for the anthologies include Happy Endings (which would have proved darkly ironic) and Number 5, before moving two doors down. While most of this insight comes from interviews with the creators, the directors of the various episodes have their say, too, offering even more insight.
It's the perfect companion volume to dip in and out of – ideally after watching each episode. One tip is to buy the physical book. It been lovingly put-together to exist in this form, which would be entirely lost on a Kindle.
• The Insider's Guide To Inside No 9 by Mark Salisbury is published by Hodder Studio, priced £25. It is also available from Amazon for £16.99
FORGOTTEN HEROES OF COMEDY by ROBERT ROSS
Who could forget Gladys Morgan 'the little comedienne with the big laughs'? Jack Train, the voice of Colonel Chinstrap on the BBC Home Service comedy It's That Man Again? Or Billy Dainty, the cameraman on Emu's Broadcasting Company?
Obviously, quite a lot of people could, which is precisely why comedy historian Robert Ross has chosen to immortalise more than 100 bygone stars in print before they slide completely into obscurity.
With a foreword by the late Terry Jones, Forgotten Heroes Of Comedy is a doorstop of a tome, more than 600 fact-filled pages spanning the decades. Depending on your age, some names will be familiar, some ring a faint bell, and others be entirely new. Even the most dyed-in-the-wool comedy fan will be introduced to at least some new figures here.
It's clearly a labour of love for Ross who evokes the bygone eras of eclectic variety-hall bills, low-budget British film comedy films and character actors who always played the same part, but impeccably. The wealth of pictures, playbills and posters help set that scene, too
A common pitfall for tomes such as this is to slip into repeating CVs of its subject, and essentially list obscure movies, TV shows and co-stars with little greater context – and Ross is not immune to this. Typical is a paragraph on director Mario Zampi, the 'Z' of the A-Z of names showcased, which starts: 'Zampi both produced and directed the variety turn compendium Come Dance With Me (1950), showcasing Max Wall, and Derek Roy and Now And Forever (1956 )which made a grown-up film star of former child star Jeanette Scott. Zamip's swansong, Five Golden Hours (1961) starred Ernie Kovacs ,Cyd Charisse and George Sanders, and remains an undervalued British-Italian film…'
But there are also a wealth of interesting facts, anecdotes and opinions – almost always positive – as Ross shares his passion for marking those who contributed to the culture and comedy of Britain, and occasionally beyond.
• Forgotten Heroes of Comedy by Robert Ross, is published by Unbound at £35. It is also available from Amazon for £21.24
Published: 20 Dec 2021
What do you think?