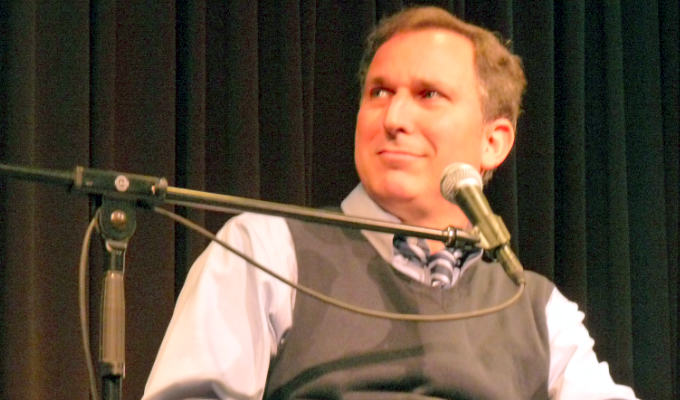 The History of Stand-Up by Wayne Federman
In 2015, showbiz historian Kilph Nesteroff wrote The Comedians, a near-definitive and thoroughly entertaining account of the evolution of American comedy, from the likes of the Marx Brothers via mob-run nightclubs to through to the 1980s stand-up boon and today's internet breakthroughs.
Against such a comprehensive and engrossing story, Wayne Federman's History Of Stand-Up offers thin picking indeed, racing from Mark Twain to Dave Chappelle's lockdown gigs in around 150 scant pages, offering nothing in depth.
True, he finds a few people Nesteroff omitted. For Federman, it started with Artemis Ward, who toured theatres reading his amusing newspaper columns, and so inspiring Twain and another monologuist, Marshall P Wilder. Not much of his work survives, but a 1906 recording begin with a line modern stand-ups will recognise: 'Have you ever noticed..?'
Federman, a comic himself, gives credit to the likes of the much-overlooked Jean Carroll, for being a pioneer in breaking comedy's boys' club in the 1940s, and unearths noteworthy nuggets of trivia such as the fact that in 1986, more than a million Americans a month went to see live comedy. As anyone who's heard his informative History Of Stand-Up podcast knows only too well, Federman knows his stuff.
So it's a shame the spin-off book from those broadcasts is so superficial: at best a primer for the subject that can be quickly devoured. But with so little storytelling depth it does no justice to the incredible characters those who moulded their acts, and subsequently a whole industry, around their personalities.
The 1979 strike at the Los Angeles Comedy Store, for example, which resulted in comedians getting paid for the first time is covered in three dry paragraphs: no mention the chaotic cocaine-fuelled 'union' meetings of stand-ups, the firebombing of rival venue The Improv, the death of comic Steve Lubetkin, who had become so distraught over the dispute he threw himself from the roof of the 14-storey hotel next door, or the bad blood that endured over the issue for years, if not decades.
Yet the author can give a precious full page to a list of comedians who starred in sitcoms based on their stage personas during the 1990s 'bonanza' of such crossovers, led by Jerry Seinfeld and Ray Romano.
For Federman loves a list, even though they tend to be so very dry to read without any background, that your eye will skip over the roll-call. Every few paragraphs, it seems, he'll list, for example,13 acts who worked Greenwich Village in the 1960s; 17 stand-ups who performed on 1970s TV showcase The ComedyShop; 51 names of comedy clubs set up in the 1980s boom; 17 famous names who performed short sets on TV in 1989; seven acts who played Hollywood's influential UnCabaret showcase… I'll stop there for fear of falling into the same trap.
Unless you really don't know anything about the history of American comedy, it's hard to recommend this shallow overview for the few snippets of interesting information it does offer. Download The History of Stand-Up podcasts instead, or, of course, Nesteroff's book.
But in one bit of good news, if you are a Kindle Unlimited subscriber on Amazon, you can get the book as one of your free books. For everyone else, it's not £8.99 well spent.
• The History Of Stand-Up by Wayne Federman is available as an ebook from Amazon.
Published: 24 May 2021
What do you think?