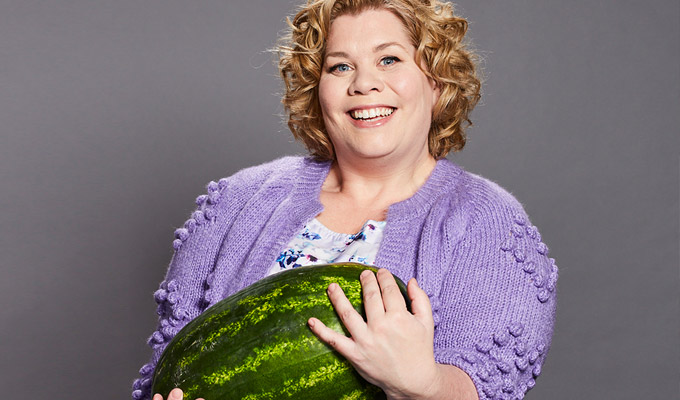 I Carried A Watermelon by Katy Brand
I may be the wrong person to review this book since I've never seen Dirty Dancing. But after reading Katy Brand's extended fan letter to the film, I certainly want to –which must be mission accomplished.
The comedian has done enough viewing for all of us, though, spending her adolescence watching it daily until she eventually wore out the VHS tape. She has returned to it frequently ever since – including making it her 40th birthday treat.
Perhaps justifying her obsession, Brand argues that Dirty Dancing is more than just a feelgood diversion with a cracking soundtrack, but an important mainstream hit with the perfect feminist message for any young teenager.
Baby Houseman, as played by Jennifer Grey, is a heroine with her own agency. She seduced the hottest dude on the resort, not with revealing clothes nor a faked vulnerability but by her character. More than once does she simply get things done – including borrowing money for another woman's backstreet abortion, a sub-plot which apparently many viewers miss.
Meanwhile Baby defies her button-down parents to have her fling with Patrick Swayze's Johnny. And although it was a sexual awakening that changed her irrevocably, she is not defined entirely by her relationship with the male lead.
The film was a triumph for its creator, Eleanor Bergstein, who based the story on her own youth. She weathered countless Hollywood rejections and stuck to her guns against executives who would dilute the story. Eventually, it was made on a shoestring $5million, intended for limited release then mopping up some low-end video sales. But Bergstein was vindicated when Dirty Dancing made $214million at the box office and became the first film to sell more than a million copies on home video.
Despite a very different upbringing in Middle England – where she voluntarily became a die-hard Christian in her teenage years – Brand finds many parallels with her own life, not just inspirations as she explores how teenage experiences form the adult self.
Her relationship with the movie makes I Carried A Watermelon a memoir of sorts for a comedian perhaps not quite famous enough to have her own commissioned – but the film, and the fresh delights she constantly finds in it, are always front and centre.
As well as the plentiful analysis of the movie and its themes, Brand attends a Dirty Dancing stage show and even takes a pilgrimage to Kellerman's, the actual Catskills resort where the movie was both set and filmed. All in the name of research, of course.
Some of these accounts might seem designed to pad out what might otherwise be an extended essay on the importance of the movie. But Brand's an engaging writer whose likeable presence leaps off the page, making her enthusiasm for the film proves infections.
In reality, only fans of Dirty Dancing are likely to buy this book – even the reference of I Carried A Watermelon passed me by – and for them, it will surely be a delight (if that's you, maybe add another star to the review).
But the book certainly shares the same sort of positive, yet not rose-tinted, message of the film. Or at least I assume as much, judging from Brand's effusive, persuasive tribute.
• I Carried A Watermelon: Dirty Dancing And Me by Katy Brand has been published by HarperCollins, priced £12.99. It's available from Amazon priced £8.74.
Published: 14 Nov 2019
What do you think?