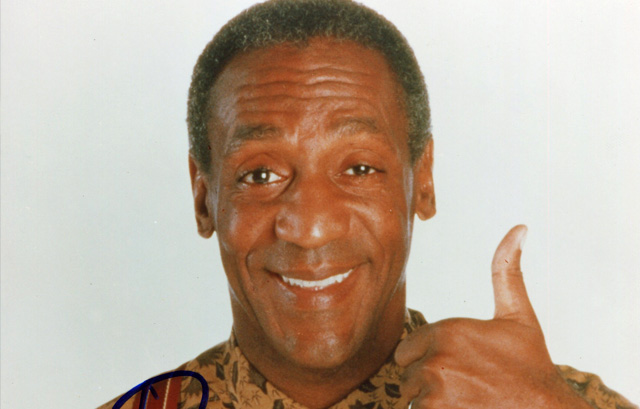 Cosby: His Life And Times by Mark Whitaker
It's not what this sizeable biography of Bill Cosby says that's significant, but what it doesn't. Mark Whitaker's research is meticulous into every part of the 77-year-old's life and career – except one.
The author clearly never foresaw the storm of allegations of sexual misconduct that have been levelled against the comedian pretty much since the day this book was published – leaving months, if not years, of research, with a gaping hole. Published in the autumn for £20, Amazon is now sells it for under £2.50.
Allegations of sexual impropriety have surfaced before, with Cosby settling a civil suit brought by Andrea Constand in 2006. But Whitaker does not address them. Perhaps because, although this is not an authorised biography, Whitaker certainly had the tacit approval of the Cosby family which certainly might have compromised him. Bill granted him extensive interviews, and Whitaker spoke to more than 60 of his friends and associates in the preparation of what, surprisingly, was the first major biography of such a significant comedy figure.
Despite his serious omissions Whitaker does cover a couple of Cosby's infidelities, albeit with extreme trepidation, including the story that he fathered an illegitimate child which the comedian denied. But what isn't in dispute is that despite his family-friendly image, Cosby spent his evenings 'hanging out with celebrity swingers and comely bunnies' at Hugh Hefner's Playboy Mansion.
Until Whitaker, a former managing editor at CNN, can address recent events in a second edition, there is still some merit in the book, not least in the way it describes Cosby's early years. when he lifted himself up by the bootstraps. Born into poverty in the housing projects of Philadelphia in 1937, one of four sons of a maid and a military cook, he found sport an escape, captaining both the baseball team and the track and field team at school before a four-year career in the Navy. However, he often neglected his education – and even when he won an athletics scholarship to Philadelphia's Temple University he dropped out as he started to exploit his 'class clown' tomfoolery on stage, first locally, then in New York, then to San Francisco's beatnik hangout, the hungry i, where he performed alongside such groundbreakers as Lenny Bruce and Mort Sahl.
Cosby, however, avoided their social-political edge for his goofy stories from his childhood, avoiding race as a topic even though many urged him to do so – a stance that eventually led to disputes with the likes of Richard Pryor, who once wanted to emulate 'Cos'. Still, Cosby's highly relatable demeanour brought his own breakthroughs, which might not have been possible had he an overtly political edge. He was the first black actor to co-star in a TV drama – I Spy, which launched in 1965 – and he had the highest ranking sitcom of all time in the Eighties, which again concentrated on family, not race.
As with many showbiz biographies, it's the formative years that are more fascinating that the blow-by-blow account of the ups-and-downs of a career. Nonetheless, Whitaker's detailed chronology does serve as a reminder of Cosby's achievements, even as they look to be irreparably tarnished. One thing that does emerge from his hefty portrait is a steely determination behind Cosby's avuncular public image that achieved that. His single-mindedness can mean he treats others badly, from the day he chased an obnoxious fan out of a college football game and beat him up, before calmly returning to the match, to clobbering fellow comedian Tommy Smothers in a punch-up at the Playboy Mansion. Overcoming countless professional setbacks – and the devastating personal one when his only son, Ennis, was murdered in 1997 – take a certain determination.
Yet those accepted into his trust have nothing but praise for his generosity, including his well-publicised philanthrophy, primality for the education causes now close to his heart after squandering his own opportunities. It cannot be counted how man underprivileged youngsters his vast wealth has benefitted.
But, as Britain's experience with old entertainers shows, external charity and personal morals are not the same thing. Whether Cosby's name will be cleared, or his accusers proved right –(and neither option might transpire) will ultimately determine his place in history, however much of this sort of detailed background we have.
• Cosby: His Life And Times, by Mark Whitaker, has been published by Simon & Schuster, priced £20. Click here to buy from Amazon at £2.48.
Published: 9 Jan 2015
What do you think?