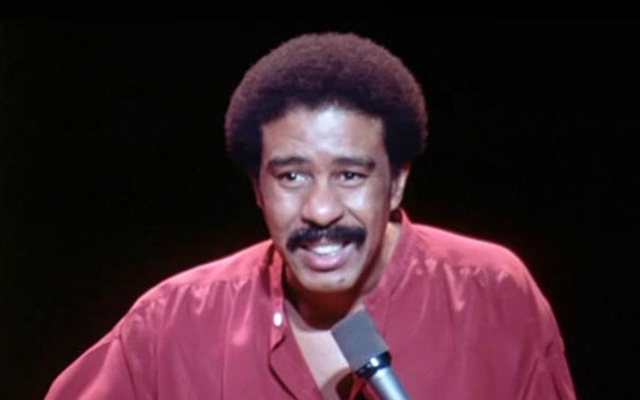 Richard Pryor: Furious Cool by David & Joe Henry
If one comedian was deserving of the epithet of 'legendary', it would be Richard Pryor. His life has all the components of an epic morality tale, from being brought up in a brothel to becoming multimillionaire entertainer, cultural icon and inspirational stand-up, yet forever on the precipice of usually drug-induced self-destruction until finally ravaged by multiple sclerosis.
No wonder, then, that so many books have been written about him – including one from his own pen, and from those who were closest to him.
Brothers David and Joe Henry have little to add to the well-documented narrative, and indeed confess that, 'we didn't set out to write the definitive cradle-to-grave biography'. Nevertheless, Furious Cool has much to commend it, not least for providing context to his life and career, and also for the elegant prose in which it is written. Understandable, perhaps, as David is a screenwriter and Joe a songwriter.
Both are clearly fans, too. 'It seems blasphemous to speak of 'other comedians' when discussing Richard Pryor,' they write. 'Richard's genius outstripped the confines of stand-up comedy.' The latter might be pushing it, for although he redefined his artform, his ventures into other fields could generously be described as only 'patchy'. Thus the tragedy that millions more will have seen his catalogue of mediocre Eighties movies than ever will see the superlative Live In Concert, probably the greatest ever stand-up gig to be committed to film.
The Henrys do not let their adoration of Pryor's work entirely overshadow his monumental flaws as a person, however. His mood swings went beyond the mercurial, and he was a brutal wife-beater, as well as a crack addict.
Fellow comedian Franklyn Ajaye tells the brothers: 'I could learn from how he did his comedy but I didn't see anything about how he lived his life that I wanted to emulate. Zero. He was very tempestuous. I didn't even like to be around him…. He was a troubled man He was heavy into the drugs, heavy into the alcohol. Who's sane doing that? Nobody.'
His pal Paul Mooney saw things slight;y differently. 'No other considerations figure into his actions, nothing other than "I want it". For everybody else in the world an attitude such as this would come off as totally insufferable. But Richard makes this work because he's completely open and vulnerable. Sure he's selfish. But he's selfish with the innocence of a four-year-old.'
The main objects of that 'I want it' mentality were women and drugs. He started on cocaine, the drug of choice for the showbusiness set of the Sixties. Miles Davis introduced him to his dealer and even the apparently wholesome Johnny Carson was on the white stuff He descended to crack, deluding himself of its benefits without impurities, which led to the most notorious incident of his chaotic life – and the one which opens this book – when on June 9, 1980, while freebasing, he doused himself with rum and set himself alight. He smashed through his bedroom window and stumbled, dizzy but calmly, through the streets until police spy him, and call an ambulance. After being admitted to the burns unit, he was given less than a one in three chance of surviving.
By this stage he was famous, 40 years after his birth in poverty in Peoria, Illinois. The Henrys are scant on the personal details of his childhood, but paint a vivid picture of social and racial attitudes of the time and, crucially, of the unique cultural landscape of the Sixties which helped forge his genre-defining stand-up.
In his early 20s, Pryor moved to New York to follow a comedy career, initially copying the cosy approach of Bill Cosby, until, in a series of professional rebirths, started mining his past and adopting the teachings of civil rights activists and other counter-cultural figures. The authors astutely describe how Pryor became essentially a spokesman for a disenfranchised black community while bringing that culture to the attention of hipper whites.
It made him a star, and Furious Cool provides details on some of the lesser-known projects developed in the wake of these highs, when every TV station and studio wanted a slice of the hip and hilarious Pryor magic. His NBC show – featuring such unusual scenes as an extended Maya Angelou monologue, a 'pet head' sketch the book describes as 'as matter-of-factly unsettling as any Kafta nightmare', and a confusing monologue, presented as if a pirate interruption, in which a lonely women speaks uncomfortably about a possible lesbian encounter – appears genuinely experimental, with the consequences good and bad that entails.
The creative slump was perhaps inevitable, and Pryor's decline into unwatchable movies is acknowledged, though not dwelt upon, in the book, as the Henrys seek to polish his professional reputation, not tarnish it, even while acknowledging his deep failings as a decent human being.
Their passion provokes in the reader a renewed admiration for such groundbreaking work, and if anyone who knew Pryor more for Superman III than his comedy seeks out his stand-up after reading their book, their job will be done.
• Furious Cool: Richard Pryor and the World That Made Him, by David and Joe Henry, was published earlier this month by Algonquin Books, priced £17.99. Click here to buy for £13.13 from Foyles.
Published: 25 Apr 2014
What do you think?