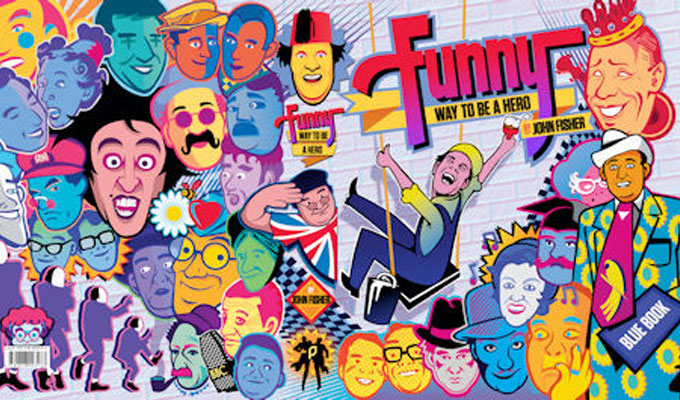 Funny Way To Be A Hero, by John Fisher
This is, by all definitions of the word, a substantial book. Over 500 pages, lavishly illustrated with more than 350 revealing photographs and fascinating playbills, Funny Way To Be A Hero exhaustively covers the history of 20th Century comedy.
Or at least the first three-quarters of it. When John Fisher first published this impressive guide back in 1973, the likes of Tommy Cooper, Les Dawson and the Two Ronnies were yet to achieve the status of national institutions. Yet it doesn't seem dated. Newly-added 'afterthoughts' to each chapter add modern context, as well as new facts and anecdotes to already meticulously researched biographies.
If you're looking for information on pretty much every comedian to emerge from the variety hall tradition, this is easily your best place to start. And Fisher is a skilled – not to mention passionate –writer who places everything in context. The big names are covered, from Max Miller to Benny Hill, but it's also fun to discover the full stories behind once-huge stars that might now be little remembered except for the most dedicated devotees: the likes of Billy Bennett, Lucian and McShane or Billy Bennett, for instance. Throughout the book, he evokes an era where comedians seem to be much bolder, more characterful personalities than they are today, where even the wealth of minor players mentioned would make a diverse human menagerie.
Fisher is clearly a fan of every comic he writes about… they are heroes, after all, 'I am just truly grateful I was there when Hancock grumbled Wisdom stumbled and Cooper fumbled,' he concludes. And if he has to mention criticism of their work, it's only to defend the comics from it. Indeed it is a shame that someone like Hill has become known for the cheap, sexist smut to which he descended, when at his peak he was a true innovator of the nascent medium of television, and worth pointing out.
Nor does Fisher care to delve too deeply into the private lives of his subjects, speaking only about their work unless, in cases such as Tony Hancock's, Frank Randle's or The Crazy Gang's , the two became inseparably intertwined, with offstage exploits were too outrageous to be missed. In one great story, Fisher recalls the time Randle was up in court in Blackpool for dangerous driving. He admitted he'd taken a drink and was driving down the seafront in his Rolls Royce when he spotted an oncoming vehicle. He imperiously waved it aside several times, but it took no notice. 'Oh well, 'ell,' he told the court. 'I hit him.' The judge replied: 'You realise, Mr Randall, that you hit a tram.'
Although Funny Way To Be A Hero has its roots proudly in its past, and can seem a eulogy for a bygone era, Fisher's forensic understanding of the subject of comedy means it has a resonance today. The stand-up's struggle to find a voice and maintain popularity, as well as the delicate dynamic between audience and comedian are as true now as they were in Dan Leno's day.
One thing that has changed is the number of women in comedy: only Gracie Fields has earned her own chapter here (although Marie Lloyd must be unlucky to be missed) while the single chapter on female comics, entitled Are Women Funny? includes the likes of Dame Edna Everage, Danny La Rue and Mrs Shufflewick.
Throughout the book Fisher – who went on to write full biographies of Tommy Cooper, George Formby and Tony Hancock as well as enjoy an illustrious career as a producer of TV light entertainment shows – demonstrates a nimble turn of phrase that lets his enthusiasm for his subject shine, as well as proving wonderfully descriptive. Of Ken Dodd in his prime, for instance: 'The protruding triangular teeth, the popping scatterbrain eyes, the hair as distraught as a dandelion puffball, the fingers sticking out at all angles in their own expression of erratic surprise, all combined to present an image of an age less immediate, less sophisticated.'
That mastery of language, combined with the detailed knowledge of the comedians, makes this a beautifully presented bible of comedy that any self-respecting fan of the art form should have on their shelves.
• Funny Way To Be A Hero by John Fisher has been published by Preface, priced £35. Click here to order it via your local independent bookshop for £25.94. John Fisher will be appearing at the Chortle Comedy Book Festival on Wednesday next week (November 27). Click here for details.
Published: 19 Nov 2013
Recent Books
What do you think?