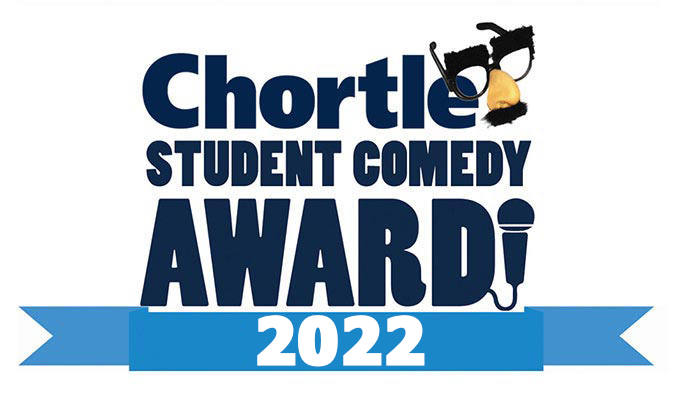 Chortle Student Comedy Award 2022: The rules
This event is open to students aged 18 years or over on January 1, 2022, enrolled in full-time tertiary education in the UK. If you make the semi-final you will be required to produce some form of student ID to prove your eligibility.
Applicants must submit a completed application form online at chortle.co.uk by 5pm on February 13, 2020. By submitting an application form, all applicants agree to abide by these rules.
Organisers may reject or disqualify any application at their discretion, and the judges' decision at every stage is final. No justification will be given, and no correspondence entered into. Unfortunately, we cannot provide individual feedback about any performance.
Entrants must submit a video or audio recording of their performance of between three and five minutes (if you submit longer we will only consider the first three minutes). From that we select entrants to compete in semi-finals – and from that for the inal at the Edinburgh Fringe.
Performances at the final should last for seven minutes with 30 seconds leeway either side. Acts will be given a visual indication when their time is about to expire. Contestants must use their own, original material. Acts may use the same material as they go through the competition, if they wish, without prejudice.
By appearing in the competition, you grant chortle.co.uk the right to use audio and video footage plus still photography from the semi-finals and final, free of charge, in any form. Chortle retains the rights to use all such footage in perpetuity. We will place clips of all entrants on to video sites including, but not limited to, YouTube. Entrants may use any video footage of their own performance in any not-for-profit manner, including as a showreel.
Please note that all footage will remain on YouTube for at least four years until the end of this competition. After that we may consider requests for removal of footage from the semis (but not the final) and only if you are no longer involved in comedy in any form, or otherwise in the public eye. This will be at our discretion, and you are reminded that we will always retain the rights.
All costs incurred by acts in participating in the competition, including but not limited to any travel and accommodation, will be at the performers' own expense.
Contestants shall comply with reasonable requests for interviews and promotional appearances in connection with the event.
The act selected as the winner of the final by a panel of judges will win a return flight to Australia plus accommodation to perform at the Comedy Lounge Perth. The runner-up will win £250.
The trip will include return economy flights, accommodation and a number of gigs, with the exact logistics to be agreed with the winner, who may extend the trip at their own expense. There is no cash alternative.
To the extent permitted by applicable law, contestants participate in the event entirely at their own risk and the organisers accept no liability for any injury, accident, loss of property, defamation or other claim arising from an artist's participation in the event, except where such liability cannot be excluded at law.
Personal information submitted on the application will be used for the purposes of organising the event and related marketing and promotional activities – but not other uses. The information will be stored on servers hosted by Google, but otherwise will not be passed to any third party.
The organisers reserve the right to terminate or modify the event or any of its heats at any time, with no liability to any contestant. The organisers reserve the right to make amendments to these rules. Any changes will be posted on this page and communicated by email to those who have already entered.
The organiser is Chortle Comedy Ltd, 112 Norman Road, London E11 4RL.
Published: 25 Jan 2022