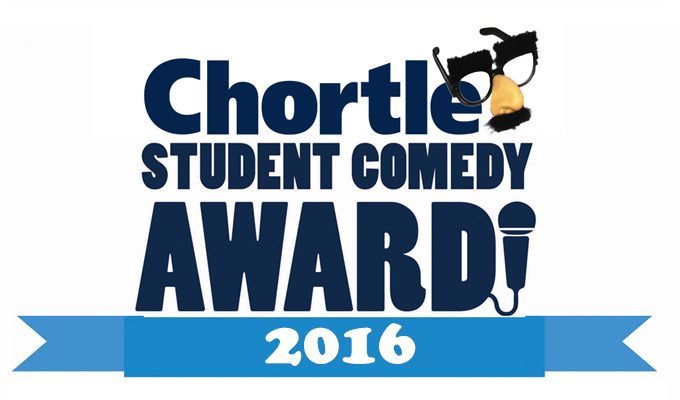 Student Comedy Awards 2016: The rules
This event is open to students aged 18 years or over on January 1, 2016, enroled in full-time tertiary education in the UK. You will be required to produce some form of student ID at your heat to prove your eligibility.
Applicants must submit a completed application form online at chortle.co.uk by midday on February 5, 2015. By submitting an application form, all applicants agree to abide by these rules.
Organisers may reject or disqualify any application at their discretion, and the judges' decision to which act wins each heat is final. No justification will be given, and no correspondence entered into. Unfortunately, we cannot provide individual feedback about any performance.
Winners of each heat will be invited to perform at one of two semi-finals, along with wildcard performers chosen at the judges' discretion or via a people's choice voting mechanism. Acts will be selected at the semi-finals to take part in the final at the Edinburgh Fringe.
The organisers will strive to accommodate acts in the heat of their choice, but this cannot be guaranteed. Entrants must specify three different choices of heats, or they will be disqualified.
Performances should last five minutes for the heats and seven minutes for semi-final and the final, with 30 seconds leeway either side. Acts will be given a visual indication when their time is about to expire. Contestants must use their own, original material. Acts in the final or semi-final may use the same material as they did in the heats, or a different set, without prejudice.
By appearing in the competition, you grant chortle.co.uk the right to use audio and video footage plus still photography from the heats and final, free of charge, in any form. Chortle retains the rights to use all such footage in perpetuity. We will place clips of all entrants on to video sites including, but not limited to, YouTube. Clips will not be removed at any point following the competition for whatever reason. Entrants may use any video footage of their own performance in a not-for-profit manner, including showreel.
PLEASE TAKE SPECIAL NOTE OF THE ABOVE CONDITION. WE RECEIVE A LOT OF REQUESTS ASKING FOR CLIPS TO BE TAKEN OFFLINE SOME TIME AFTER THE COMPETITION. WE WILL NOT DO THIS, WHETHER YOU CHOOSE TO CONTINUE A CAREER IN COMEDY OR NOT
All costs incurred by acts in participating in the competition including but not limited to any travel and accommodation, will be at the performers' own expense.
Contestants shall comply with reasonable requests for interviews and promotional appearances in connection with the event.
Heat winners will be listed at www.chortle.co.uk after each heat. The best runners-up, selected to take part in the semi-finals, will be announced shortly after the final heat. The act selected as the winner of the final by a panel of judges will win £1,000, and the runner-up will win £250. In all the heats, semi-final and final the judges' decisions are final, no reasons for judgements will be given.
To the extent permitted by applicable law, contestants participate in the event entirely at their own risk and the organisers accept no liability for any injury, accident, loss of property, defamation or other claim arising from an artiste's participation in the event, except where such liability cannot be excluded at law.
Personal information submitted on the application will be used for the purposes of organising the event and related marketing and promotional activities – but not other uses, including being passed to a third party.
The organisers reserve the right to terminate or modify the event or any of its heats at any time, with no liability to any contestant. The organisers reserve the right to make amendments to these rules. Any changes will be posted on www.chortle.co.uk
The organiser is Chortle Comedy Ltd, 112 Norman Road, London E11 4RL.
Published: 21 Jan 2016
Recent News
What do you think?