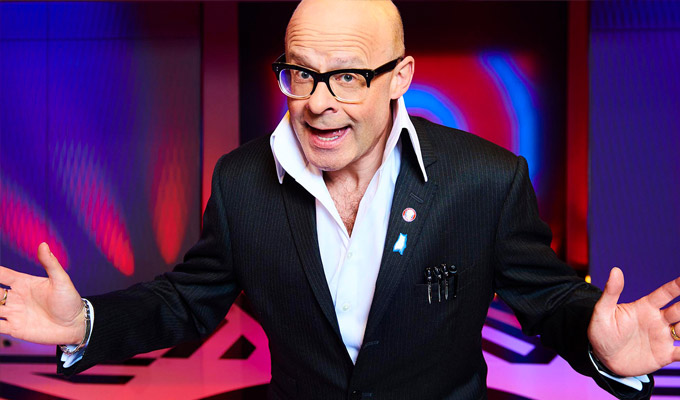 Free tickets
You can see some of Britain's finest comedy talents for free at the recording of TV and radio shows - as well as getting a sneak peek at forthcoming programmes.
Tickets are now available for the following shows. Please note that you should apply for tickets by clicking the links in the copy (either in blue or underlined). Do not email Chortle – we have nothing to do with these recordings and will not respond to any emails about them.
---
Harry Hill's Clubnite
Harry Hill is back where it all began on Channel 4, hosting an hour of anarchic late-night comedy. Each week Harry will introduce his favourite rising star comedians from the circuit who will perform their finest comedy.
There will be returning characters, sketches, games and music to get us laughing into the weekend.
Confirmed acts include, Bridget Christie, Mawaan Rizwan, Rachel Parris, Rosie Jones, Suzi Ruffell, Huge Davies, Lucy Pearman, Eddie Kadi, and Tim Renkow.
Filming at: BBC Elstree Studios, Borehamwood
Date: November 17 and 24
Free tickets: Lost in TV
---
Romesh's Look Back to the Future
Romesh's Look Back to the Future is back! The ground-breaking satirical show returns in time for Christmas, with sharp-witted humbug Romesh Ranganathan at the helm, along with three celebrities (Tom Davis, Jo Brand and Gino D'Acampo) competing to predict what will happen in the space of a year.
Last January, Romesh and his guests assembled to make predictions about the next 12 months of 2019 on a variety of different topics. Fast forward to December – he and his the three celebrities return to hear their predictions back, with a host of surprise special guest appearances. However, there's a twist – with the help of state-of-the-art technology, the recordings filmed back in January will be transformed into holograms. Each celebrity will work with their hologram – as a team.
Filming at:BBC Elstree Studios, Borehamwood
Date and time: Monday December 2, 6.45pm
Free tickets: Applause Store
---
Comedy Against Living Miserably
Nish Kumar hosts Comedy Against Living Miserably, the first in a series of stand-up specials in partnership with CALM (Campaign Against Living Miserably)
Comedy Against Living Miserably is the latest initiative in Dave's partnership with CALM since the "Be the Mate You'd Want" campaign launched in 2018, with an ad break takeover where airtime was given to encourage viewers to spend that time texting or calling a mate. The series aims to get the comedy community to join in and help foster a more positive and open culture when it comes to mental health.
The specials will star some of the nation's biggest names in comedy and will air on Dave next year. The comics will be waiving their fee to donate to the charity, which will also be matched by UKTV. There will be the opportunity for audiences to donate to CALM on the night.
Joining Nish will be Darren Harriott, Seann Walsh and Suzi Ruffell.
Filming at: EarTH (Theatre) in Hackney, East London
Date and time: Thursday November 21 at 7pm.
Free tickets: Standing Room Only
---
Frankie Boyle's 2019 New World Order
Comedian Frankie Boyle returns to BBC 2 for a one-off end of year show.
Frankie Boyle's 2019 New World Order sees him tackle the year's biggest news stories in his own unique style. The show features Frankie at his brilliant, satirical best doing stand-up, review and discussion - all in an attempt to make sense of the last 12 months.
Joining him on the show will be experts and guest comics who will take him to task over his controversial claims. We are looking for groups of politically aware individuals who enjoy Frankie Boyle's brilliant stand up as well as humorous discussion and debate analysing the bewildering year that was 2019.
Filming at: The Hospital Club, Covent Garden
Date and time: Tuesday December 17
Free tickets: Standing Room Only
---
Michael McIntyre's Big Show 2019
Michael McIntyre hosts a jam-packed festive night of entertainment from The London Palladium.
In this entertainment special for BBC One, Michael presents the world's leading comedians and music superstars as well as his own record-breaking comic talents for a night packed with festive treats and unmissable surprises.
Filming at: The London Palladium
Date and time: Saturday November 23, 5pm
Free tickets: Applause Store
---
Richard Osman's World Cup Of The Decade
As we hurtle towards 2020, Richard Osman will look back and celebrate the very best of the past ten years by hosting a World Cup style tournament on Twitter giving the public the opportunity to have their say on their favourite films, TV shows, song, celebrity and new thing… with the winners being revealed on this special show for Channel 4.
Viewers will take a nostalgic trip down memory lane as Richard and his celebrity guests discuss the potential winners in each category, before revealing the ultimate winner in each group. There will be big guests, great clips and heated funny debate.
Filming at: Riverside Studios, Hammersmith
Date: Wednesday December 4
Free tickets: Standing Room Only
---
The New Year International Comedy Show
Join the audience for an international showcase of the funniest new comics from around the globe.
Malawian comedian Daliso Chaponda (Britain's Got Talent) hosts the international line up for the BBC World Service which features Danish stand-up Sofie Hagen and American comic, and the winner of the BBC's Best Newcomer at this year's Edinburgh Festival, Janine Harouni.
Filming at: BBC Radio Theatre, London
Date and time: Wednesday December 11, 1.45pm
Free tickets: BBC Tickets
8 Out Of 10 Cats
Jimmy Carr oversees proceedings with Rob Beckett and guest captain Katherine Ryan. Joining Rob and Katherine will be a range of well-known celebrities comedians and up and coming comic talent. You can expect the usual playful chat as the panellists chew over the country's most talked about topics and guess the results of a wide range of surveys and opinion polls..
Filming at: BBC Elstree Studios, Borehamwood
Date: Monday December 16
Free tickets: Standing Room Only
---
The All-New Big Fat Quiz Of The Decade
Jimmy Carr is back hosting a brand new Big Fat Quiz special.
Filming at: BBC Elstree Studios, Borehamwood
Date and time: Monday November 25
Free tickets: Standing Room Only
---
Breaking The News
BBC Radio Scotland's multi-award-winning topical comedy panel show is hosted by comedian Des Clarke and invites a mix of the UK's top comedians, commentators and up-and-coming stand-up talent to take a satirical swipe at the week's news in Scotland and around the world.
Recording at: Various Scottish locations
Date and time: Thursdays until December 5, 4pm
Free tickets: BBC Tickets
---
Celebability
A panel of friends will go head-to-head against our celebrity guests all playing for some amazing prizes. Host Iain Stirling will be joined by teams from across the world of TV including comedians, presenters, reality an music stars.
Filming at: BBC Elstree Studios, Borehamwood
Date and time: December 12, 13 and 17, various times
Free tickets: Applause Store
Published: 6 Feb 2019