Mark Watson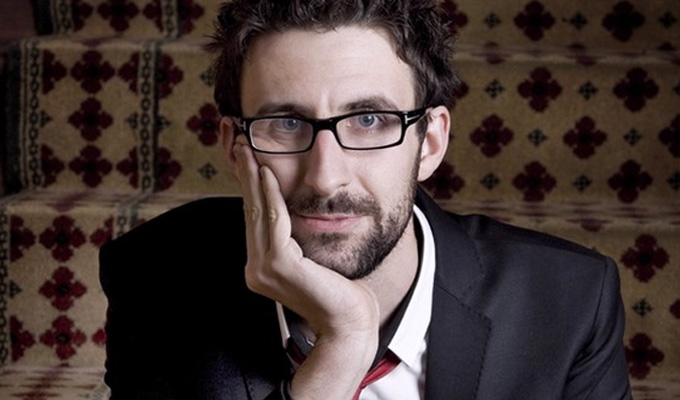 A former Cambridge Footlighter, Mark Watson first made an impact on the comedy circuit in 2002 when he won the Daily Telegraph Open Mic competition andwas a runner-up in So You Think You're Funny?
He has become known for his Edinburgh shows (2005's 50 Years Before Death And The Awful Prospect Of Enternity was nominated for the Perrier) and his gruelling shows that last more than 24 hours. Perrier's successor, the if.comeddies, awarded the panel award for best capturing the spirit of the fringe, in 2007.
Watson won the Chortle award winner for innovation in 2005, when he was also nominated for best breakthrough act, and was nominated for best compere in 2007.
He is also a novelist, with his debut Bullet Points, published in 2003; has written for TV and in 2007 landed his first radio series, Mark Watson Makes The World Substantially Better.
Mark Watson Videos
Reviews
Chortle Student Comedy Award Final 2013
Variety was the spice of the tenth Chortle Student Comedy Award final last night, with a plurality of styles of both delivery and material, which suggests the next generation of comedians are striving to be different. Or at least the best of them are.
Conor Neville started off with some unhurried Irish charm, which might be a cliché when talking about comics from his county, but he used it to smuggle in some spikier material about 9/11. But he's no shock comic, as proved by his delightful tale about the one-sided football matches of his youth, which builds up nicely with every sentence. He's also got an excellent 'rule of three' when he considers possible endings to the phrase 'He died doing what he loved...' A quirky writer with a quiet confidence in delivery, Neville's already a solid, bookable act.
The same could be said about Nathan Willcock, who breaks the ice with a splendid prop-based visual pun, and later demonstrates a silly physical side, too. His set is deftly constructed, in which disparate elements from his political references to his lack of success with women, via his unlikely catchphrase, tie together smartly. He, too, is a robust , versatile writer who'd fit easily into any club line-up, and that gained him joint second place.
News
Comments
Mark Watson Dates
Represented by