Stephen K Amos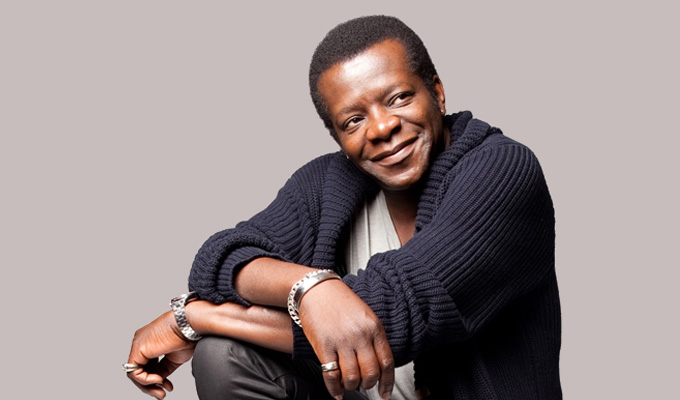 A circuit stalwart, Stephen K Amos made his Edinburgh debut in 2001, returned in 2003, and has performed there every year since. He has also appeared the Melbourne Comedy Festival every year from 2006 to 2009.
Amos has also acted in a number of dramatic plays at the Fringe, including One Flew Over The Cuckoo's Nest with Christian Slater in 2004 - which later transferred to the West End – and Talk Radio in 2006.
On TV, he has performed stand-up on Live at the Apollo and the 2007 Royal Variety Performance and appeared on several panel shows, including Have I Got News For You, Mock The Week, The Wright Stuff and Loose Women, where, in February 2009, he caused a stir by revealing that Prince Harry told him he 'didn't sound like a black chap' after his appearance at a gig to celebrate Prince Charles's 60th birthday.
In 2007 Amos made an acclaimed Channel 4 documentary on homophobia in the black British community and in Jamaica, Batty Man. He is also in the cast of 2009 BBC Two sitcom In My Country, a multicultural show set in a run-down guest house.
In 2004, he won a Time Out award for comedy, and he has been nominated for the Chortle Award for best compere three times, in 2004, 2007 and 2008.
Stephen K Amos Videos
Reviews
Muff
MUFF, the new independently-made sitcom from Daniel Sloss and others, certainly wears its intensity and its peculiarities on its sleeve.
The first two minutes are a dizzying whirl of knowing in-jokes, a bloody zombie apocalypse, and camp 1960s Batman-style 'Ker-Pow' stingers, all in the name of an obtuse set-up about the brain-corroding powers of bad TV.
As if to underline the show's manifesto, Sloss's character Lawrence is soon making an impassioned speech to a room full of braying post-ironic idiots: 'TV shows nowadays are just bland and unoriginal, stealing ideas from other shows,' he proclaims. 'Who remember when television used to be an art form. When it used to create ideas and inspire emotions?' No one is with him…
Certainly MUFF is unlike anything you'll see on mainstream telly. Not just because of the industrial-strength swearing, but because it doesn't play by the rules. Not all the insanity works, but the sheer number of ideas certainly means it's unpredictable.
The tone is outlandish and noisy, not least because of the number of wildly overacting comedians in the cast. And the tangled script – by Sloss and Kai Humphries – does, eventually, settle into something resembling a narrative, albeit a screwed-up one, which helps you attune to its fever pitch.
Turns out the zombie-slayer from the first scene, played by Stephen K Amos, is the future Lawrence… and if the very obvious logical inconsistency in that troubles you, MUFF is probably not going to be for you.
So we backtrack to when Lawrence, a student disillusioned with television, gets a job with bizarre production company, MUFF, which churns out offensively bland tat at an unfeasibly fast rate. Fellow stand-up Tom Stade, and plays company boss JP, a fervent, sometimes gun-wielding, psychopath, leading a staff that includes JoJo Sutherland as the even more unhinged Hillary and Joe McTernan as super-camp ladies' man Theo. Circuit-familiar comics pop up in all manner of supporting roles, too: Eric Lampaert as a polite, cross-dressing armed robber in Episode Two is certainly a stand-out.
To attempt to explain more would be counter-productive; just know that this is a wild, outrageous, rock-and-roll style of comedy, which ain't always pretty but which loves to revel in its excesses.
If this were the States, MUFF might find a home on Adult Swim, the anarchic late-night sibling of the Cartoon Network that's long been a home for the weird and the wonderful. Here, who knows where it will lead? But it's certainly such stuff as cults are made of.
The first two episodes are available to view online now:
Episode one:
Episode two:
News
Comments
Stephen K Amos Dates
Represented by