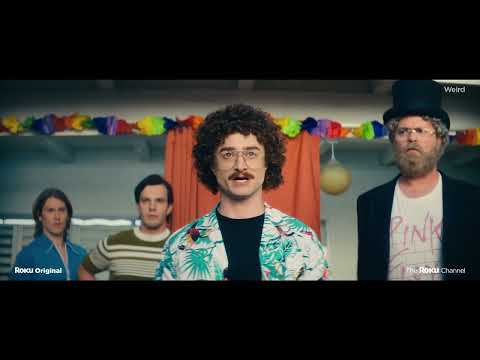 Daniel Radcliffe as 'Weird Al' Yankovic
Here's Daniel Radcliffe as 'Weird Al' Yankovic in a new trailer for the mock biopic of the musical comedy oddity.
The minute-long teaser shows him topless on stage swigging whisky, hacking through a jungle and embroiled in a fight.
The film, Weird: The Al Yankovic will offer a fictionalised version of the comic's life and career. Producers say it will also focus on his 'torrid celebrity love affairs and famously depraved lifestyle' – although in real life he is known for being a polite, shy, practising Christian who refrains from swearing, alcohol, and drugs.
Yankovic - who co-wrote the film with its director Eric Appel – previously said: 'I am absolutely thrilled that Daniel Radcliffe will be portraying me in the film. I have no doubt whatsoever that this is the role future generations will remember him for.'
'Weird Al' Yankovic is the biggest-selling comedy recording artist of all time, and has won five Grammys. He is one of only three artists to have had their own top 40 hits in each of the last four decades, the other two being Michael Jackson and Madonna.
The film is set to be released this year on The Roku Channel in the US, but there is no news on whether it will be available in the UK.
Published: 4 May 2022
What do you think?