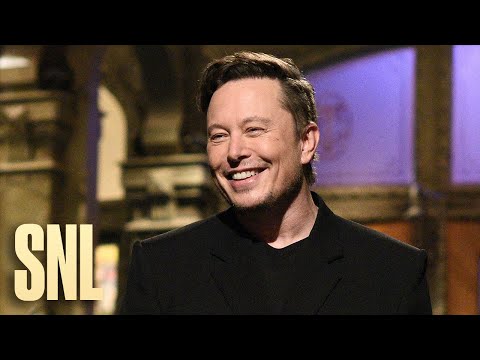 Elon Musk on Saturday Night Live
Tech billionaire Elon Musk presented Saturday Night Live, joking about his son's bizarre name X AE A-Xii and how he smoked a joint on Joe Rogan's podcast.
He also referred to his often bizarre tweets he said: 'To anyone I've offended, I just want to say "I reinvented electric cars and I'm sending people to Mars in a rocket ship, did you also think I was going to be a chill, normal dude?"'
Musk claimed to be the first person with Asperger's to host the US sketch show – 'or at least the first to admit it'.
His appearance might even have been the first to have affected the value of a cryptocurrency, with the value of dogecoin plunging 28 per cent when he joked that it was a 'hustle' on air.
During the Weekend Update section, cast members Michael Che and Colin Jost, repeatedly asked him, in character as financial expert Lloyd Ostertag: 'What is dogecoin?
Musk replied: 'It started as a joke based on an internet meme but has taken off in a real way,' adding: 'It's the future of currency. It's an unstoppable financial vehicle that's going to take over the world."
Eventually Che suggested: 'So, it's a hustle?'
Musk replied: 'Yeah, it's a hustle.'
Here's his opening monologue:
And here's his segment about cryptocurrency:
Published: 9 May 2021
What do you think?