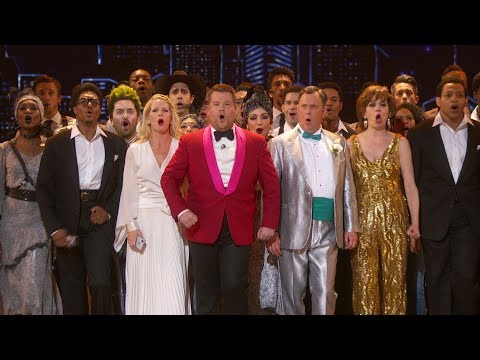 James Corden's opening number at the Tony Awards
James Corden has divided critics for his opening number at the Tony Awards last night.
The comedian and talk-show host sang the praises of live entertainment compared to passively binge-watching TV series with an energetic song-and-dance number.
Breaking Bad star Bryan Cranston, who won a Tony for his performance in Network, got in on the joke by apparently sneaking out to go to the toilet.
Fleabag got a mention as an honourable mention as one of the streaming shows worthy of your attention over musicals, as Corden acknowledged some of the shortcomings of a night on Broadway, too.
The Huffington Post said Corden got the ceremony 'off to a rollicking start with an elaborate musical montage' although the New York Times thought it 'bland' and Variety thought the message of the song got 'muddled'. The number got a standing ovation, and went down with viewers at home, soliciting comments such as 'best awards show opener ever' on social media.
Published: 10 Jun 2019
Recent Videos
What do you think?