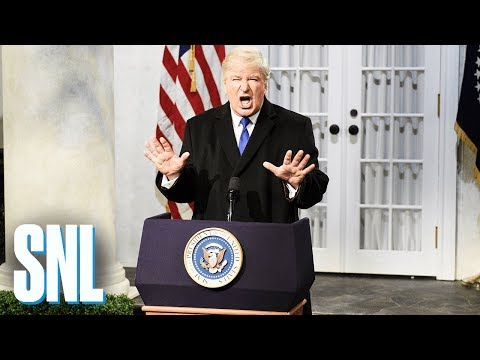 Alec Baldwin's Trump declares a national emergency
Alec Baldwin reprised his role as Donald Trump on Saturday Night Live yesterday to declare a national emergency.
'You can all see why I have to fake this national emergency, right,' he said in the 'cold open' sketch at the start of the show. 'I have to because I want to. It's very simple.
'We need wall because wall works. Wall makes safe. You don't have to be smart to understand that. In fact, it's even easier to understand if you're not.
After some rambling barely distinguishable from the nonsense the actual president spots, Baldwin's Trump said: 'In conclusion, this is a total emergency, a five alarm blaze, which means I have to go to Mar-a-Lago and play some golf,' he said.
Published: 17 Feb 2019
Recent Videos
What do you think?