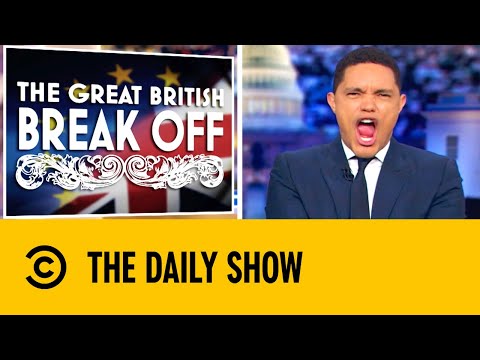 US late-night hosts on the Brexit chaos
American late-night TV hosts dusted down a few British stereotypes as they mocked the Brexit chaos yesterday.
Comedy Central's Daily Show called it 'The Great British Break Off' and used the impression that all Brits speak in whimsical archaic language to make its points.
Explaining that Theresa May is in a tough position, host Trevor Noah said it was 'damned if you do, damned if you don't – or as they say in Britain "hollysullied if you do, kitchen knickers in the gollypump if you don't"
'Prove me wrong,' he then challenged his audience.
The segment also included footage of two Welshmen having a dispute over figures of speech, and concluded with Noah talking about possible food shortages post-Brexit and joking: 'Africa's watching all of this going "Who's laughing now?
On CBS, The Late Show with Stephen Colbert offered a sketch which imagined a post-Brexit Mary Poppins, set in an apocalyptic wasteland:
ON NBC, Late Night With Seth Meyers featured a commercial trying to explain Brexit to Americans:
However James Corden, who might be best placed to comment on the situation in the UK, ignored the story altogether during his monologue, as did Jimmy Fallon on The Tonight Show.
Published: 17 Jan 2019
Recent Videos
What do you think?