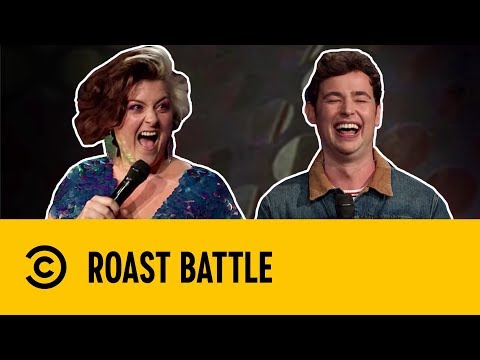 Roast Battle: Brennan Reece vs Kiri Pritchard-McLean
The pair hold nothing back, as Reece mocks Pritchard-McLean for the number of men she has slept with – while she likens him to 'Ukip eugenics programme that ran out of funding halfway through'.
The comics rip strips off each other in tomorrow night's show, which also features Joel Dommett taking on Alex Edelman.
But the series kicks off on Comedy Central at 10pm, tonight with Tom Ward Vs Darren Harriott And Tom Allen Vs Larry Dean.
The line-up for the rest of the week is
Wednesday: Tom Houghton vs Lauren Pattison and Simon Brodkin Vs Dane Baptiste
Thursday: Tom Lucy Vs Nigel Ng and Johnny Vegas Vs Phil Ellis
Friday: Rhys James Vs Lloyd Griffith and Rhys Nicholson Vs Felicity Ward
Judges are Katherine Ryan, Jonathan Ross and host Jimmy Carr.
Published: 14 Jan 2019
Brennan Reece and Kiri Pritchard-McLean trade vicious insults in this clip from Comedy Central's Roast Battle.
Recent Videos
What do you think?