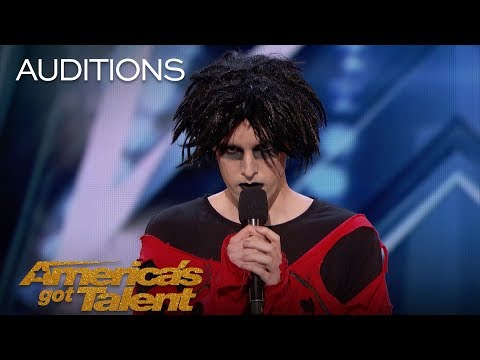 Goth comedian on America's Got Talent
He was clearly overwhelmed by the standing ovation he received for his self-deprecatory set, prompting Simon Cowell to ask the emotional 32-year-old: 'You're not used to this are you?'
'I don't get booked for a lot of shows,' Graves confessed.
'Enjoy your free time right now because you're going to be a busy man,' judge Howie Mandel assured him.
Graves took a low-status position as he spoke about the troubles in finding the woman of his dreams, and joked: 'I once had my identity stolen – but it's OK, they gave it right back.'
He got four 'yeses' from the panel, with Mel B saying: 'You're so different, you're humble and real and dark. It's everything I absolutely love.'
Published: 11 Jul 2018
Goth comedian Oliver Graves had to choke back the tears when he appeared on America's Got Talent last night.
Recent Videos
What do you think?