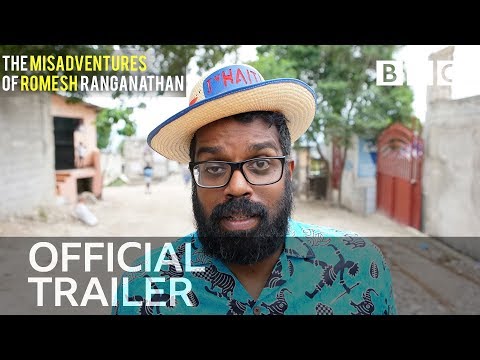 The Misadventures Of Romesh Ranganathan
Here is the first trailer for Romesh Ranganathan's new BBC Two travel series.
The Misadventures Of Romesh Ranganathan features the comedian going 'way beyond his comfort zone' in some of the world's most unexpected holiday destinations.
Although no air date has been announced, the trailer shows the comedian getting a hot mud bath, walking on a precarious mountain and supping a beer on a salt flat.
'Im going on holiday to places no one else agreed to go to,' he says, 'and releasing my inner explorer.'
The show was originally called Romesh's Really Rough Guide, and he had to undergo hostile environment training before heading to some of the danger spots.
He said: 'I got fed up with people telling me that doing travel shows was essentially a paid holiday, so I decided to tackle that by doing one where I could actually die.'
Ranganathan is quickly becoming one of the busiest men in comedy.
His interview series Rob & Romesh Meet – co starring Rob Beckett will air on Sky One later this year.
He is also making a semi-autobiographical sitcom for Sky One, The Reluctant Landlord, and recently piloted Romesh's Look Back To The Future for the channel, a panel show in which celebrities are asked to predict the future with the aid of holograms.
Last year, he also hosted a non-broadcast pilot for a new comedy gameshow, My Family Rules, in which celebrity guests discuss weird family traditions, and he is currently fronting a series of TV ads for Twitter.
His ten-episode series about trying to crack America. Just Another Immigrant (originally called Breaking Romesh) is currently airing in Showtime in the US. The series shows him trying to sell out the 6,000-seat Greek Theater in Los Angeles within three months, despite being unknown in the States when he arrives.
Published: 19 Jun 2018
Recent Videos
What do you think?