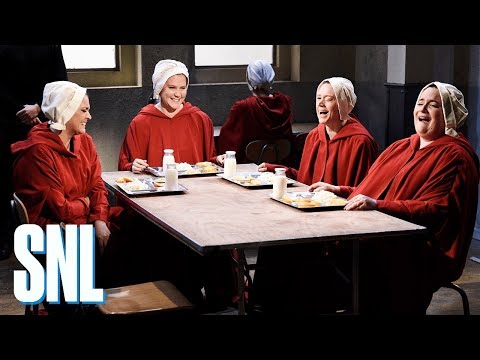 Handmaids in the City
Saturday Night Live mashed up A Handmaid's Tale and Sex And The City last night to offer a bleak vision of a future in which women are brutally oppressed, but still get to exchange jaunty banter.
Host Amy Schumer took the Sarah Jessica Parker role along with Cecily Strong and Aidy Bryant, whose character Ofjohn boasted of her 'amazing' new apartment: 'It's rent-controlled. John controls me, and I don't pay rent!'
Then Kate McKinnon joined the table. as a handmaid missing an eye, bleakly joking that it was plucked out because she'd dared to read a newspaper.
As the voiceover for the dystopian notion: 'You'll laugh, you'll cry, you'll say, "Oh my god, this so could be me and my friends with the way things are going."'
Published: 13 May 2018
What do you think?