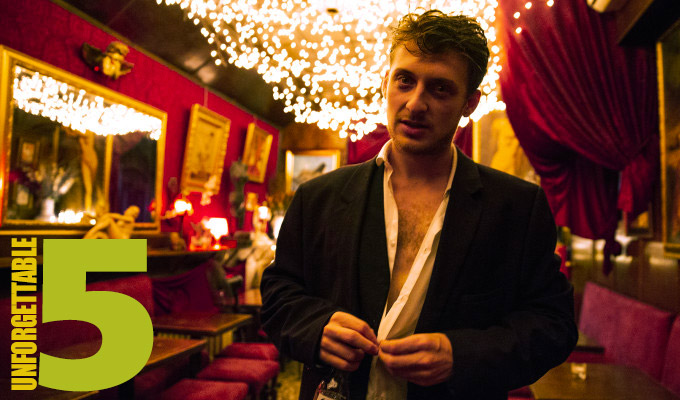 One gig, 19 walkouts
Zach Zucker, of the double act Zach & Viggo, is performing this festival as hack comedian Jack Tucker. Here he recalls his most memorable gigs.
Worst gig
Our Jack Tucker journey began in February, following two rockin' previews in London and LA. We totally believed our own hype and decided to let the press into our show on opening night of Adelaide Fringe – and it was an absolute disaster.
The audience was completely silent for the first 35 minutes, before people started walking out. I made the mistake of thinking everyone was on my side and said something along the lines of 'if you want to go, now's your best chance' after which, half the audience seized the opportunity and got up to leave.
I ran down the aisle to try to play with the punters who were leaving, at which point, audience members in the front section got up and started filing out through the stage-exit, leaving me trapped In Between two lines of justifiably disgruntled audience members trying to get out.
We finished with a whopping 19 walkouts on the night, 29 on my opening weekend, and 75 for the entire festival. Oh, and we also received a two-star review from the biggest publication in town.
Worst journey to a gig
Jonny [Woolley, director] and I were invited to perform at a festival in Sardinia back in July 2016. The deal was if we booked our own flights, we would get free accommodation in a hotel, free meals provided by the organisers, and free travel to and from the airport. Obviously, we botched this and accidentally booked our tickets home from the wrong airport — on the opposite side of the island, four hours away.
Our flights out were at 9.30am and the earliest train that morning wouldn't have gotten us to the airport in time, so we had to miss the last night of the festival, train down the night before, and spend 13 hours at the airport. For starters, the train was completely full, and we had to stand the entire journey. We arrived around 10pm and the airport was completely empty by midnight.
The restaurants were closed, the cash machines in the airport didn't work, and there was no internet. So Jonny and I bought two packs of Marlboro reds and chain-smoked them to stay awake.
We attempted to crash around 5am on a row of unattended cafe benches but were swarmed by flies and eventually kicked away by an angry security guard who shouted at us in Italian.
An hour and a half before our flight, I finally went to check in at Ryanair but was told that in-person check-in had closed 30 minutes ago and that we had to check-in online. I was obviously livid and didn't react so well. In the end, I had to pay 200 euros to check-in and print my ticket, which was more expensive than just buying a new ticket from the airport that was 15 minutes away from where we started. Moral of the story: smoking is bad and Ryanair is worse.
Most exotic gig
Zach & Viggo were invited to perform at the UK Embassy in Prague during Prague Fringe in 2017. It was an afternoon show for the local sponsors, investors and festival directors, and the festival explicitly told us not to do anything crazy. Obviously, that wasn't going to happen.
We dedicated the entire gig to telling Brexit jokes about how all of the expats would have to leave their comfy lives in Prague and go home to the UK. At the height of our performance, I told the ambassadress that it was my dream to get naked in a government building and asked if I could do it.
The ambassadress gave us the OK, so I stripped down and the festival director chased me through the garden with my pants around my ankles. I was screaming 'Brexit,' while waving an American flag, as the festival director tackled me to the ground. After the gig, one of the other festival administrators pulled me aside and said, 'I was worried you would behave, and I'm glad you didn't,' before handing me a glass of champagne, and walking back into the embassy.
Best heckler
About halfway through the Adelaide Fringe every year there's a massive motor race, and all the car fans get drunk and decide to see festival shows. It's generally a horrible experience for everyone involved.
For one of my shows that weekend, I had a big country bloke in and was sure he would hate my show: big, bald, Oakley sunglasses, full body tattoos, a greasy tank top, and too many piercings.
He started heckling me about 10 minutes in, but the heckles weren't really malicious. You could tell he was just letting loose and enjoying the show, and was maybe one of the only people in the audience really loving it that night.
At the end of the show, he came up to me and told me that he'd had a rough few weeks and hadn't left the house much. He was fired from work, he had some fights with his family, and was struggling, but this was the most fun he had in a long time, and that we had inspired him to deal with some issues/resolve some conflicts he had been avoiding.
He came back two more times, brought his friends each time, and always felt like he was part of the show – which he was by the end.
Strangest audience member
Viggo and I developed our first solo shows in Adelaide back in 2017 in a very small indie venue. One night I cancelled my show because nobody showed up, so I hopped into Viggo's room next door to watch.
About 15 minutes in, the front of house pulled me out and told me a group of people had shown up for my show late. I was ecstatic and thought to myself 'this is one of those artistic moments you'll always remember, Zach' and decided to do the show.
A group of three people walked in, a guy and two girls, and within 30 seconds of being there, were railing lines of cocaine off my flyer. The guy caught my eye, and seeing my reaction said, 'Oh sorry, do you want some?' I politely turned him down, still thinking I was about to deliver the performance of a lifetime. I would not wind up performing a show that night.
We ended up having a really wholesome and kind of heart-breaking hour together. They were casually snorting coke throughout the night, but we started talking about some real deep personal stuff, creating a group therapy atmosphere.
One of the women opened up about how she had two kids with two different men, was dating a new guy who she found out was cheating on her, was pregnant with his child, and wasn't sure if she should tell him.
The other woman was dating a famous AFL player and told me that he was physically abusive and was intimidating her every time she tried to leave. The guy talked about how he used to date the second girl, but was too clingy in their relationship, and that he regretted how it had affected their friendship. It was a really intimate experience together.
At the end we all drew portraits of each other — I still carry those around with me on tour. I really appreciate the three of them and every time we're back in Adelaide, the four of us get together and go out for drinks.
• Zack Zucker performs in Jack Tucker: Comedy Stand-Up Hour at Underbelly Cowgate at 21:20 nightly. Details.
Published: 31 Jul 2019
What do you think?