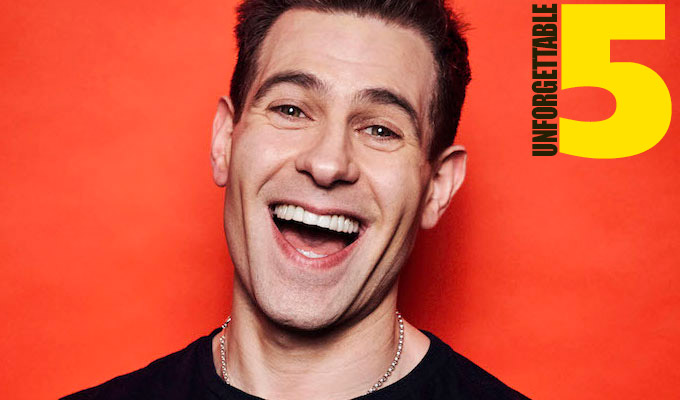 'The Grand Wizard of the KKK didn't enjoy it as much as I'd hoped...'
As he prepares to start his first Edinburgh Fringe run as himself, Simon Brodkin – the high-profile prankster who's targeted Theresa May, Sepp Blatter and Donald Trump as well as creating the 'chavvy' alter-ego Lee Nelson – recalls his most memorable gigs.
First gig
It was at a free gig in a dodgy bar in Shoreditch, with a never-been-repeated bill of myself, Russell Kane and Simon Amstell. One comic, angered by the muted response he was getting, stormed off in a huff, mid-set, telling the audience 'everyone found me funny at The Comedy Store last night actually!'
I performed as Lee Nelson and their reaction was a taste of the ten plus years that followed; most loved it, some hated it and plenty of people thought Lee was for real.
I think I have a video of the gig somewhere. I should dig it out and organise a reunion with Russell and Simon. Maybe charge people this time.
Worst gig
I was once booked for a gig at The Hackney Empire called Rice 'n' Peas. I hadn't slept the night before having been out for my best mate's birthday, and still had a little Sambuca kicking about my system, so my head wasn't in the best state to start with.
Once I went on stage things got significantly worse as 1,200 people started booing me. Even a cajoling of the audience by the MC in full drag couldn't change their minds. So it was straight home to bed.
They still owe me £50. And my dignity.
Least welcome post show comment
It wasn't so much post-show, as post stunt. And it wasn't a comment but a torrent of abuse across social media after I surrounded Donald Trump with hundreds of swastika-emblazoned golf balls whilst he was on his golf course, announcing that they were part of Trump's new golf range.
David Duke, The Grand Wizard of the KKK, didn't enjoy it as much as I thought he might and, rather than giving me any constructive feedback, he wanted me gassed.
Biggest lesson learnt
I made a joke about an audience member's trainers at a late-night Edinburgh Festival gig. Instead of seeing the funny side he jumped off his seat, walked on stage, went forehead-to-forehead with me and asked, 'What the fuck did you just say about me?'
Being a moderately built 5ft 5in Jew, I was ill-equipped to deal with the situation. Fortunately my 6ft 4in rugby-playing manager was. He came bounding down from the back row - despite being in a pair of 'sensible sandals' himself - grabbed the dude by the neck and booted him out the venue.
Lesson learnt: drunk, angry men don't like having their shoes mocked in public.
Funniest moment at a gig
I laughed a lot when I was turned away from the comedy tent in Glastonbury, where I'd been booked to perform, for not having the correct wristband on.
Only 45 minutes earlier, I'd got onto the Pyramid Stage and joined Kanye West. Also with no wristband. Rather than kicking me out after my brief hip-hop duet, the super-chilled Glastonbury organisers just asked me to not do it again, please'.
I realised I could still just make it in time for my slot at the comedy tent so I schlepped across several fields, still dressed as a rapper with Argos toy microphone in-hand. But the ladies at the comedy stage gate were insistent: no credentials, no entry. Maybe they should be on the door at the Pyramid stage.
• 100% Simon Brodkin will be at Pleasance Baby Grand at 9.30pm from Thursday.
Published: 30 Jul 2019
What do you think?