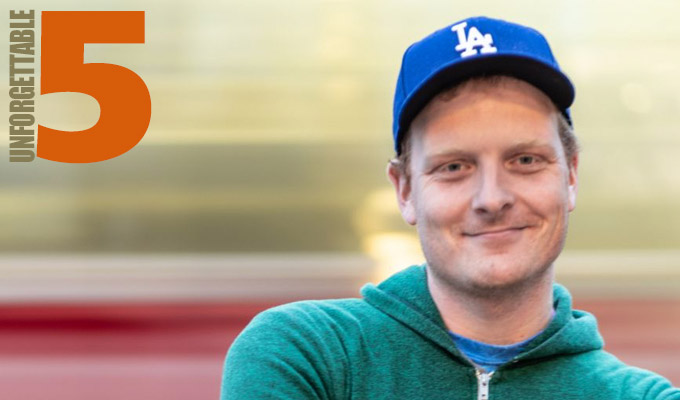 'I was booed by 40 Postman Pats'
First gig
I was a suited-and-bloated, nervous, 20-year-old with a theatre degree in my back pocket. I walked into the then smokey Comedy Works in Montreal on Bishop Street, which was a classic 80s comedy club with cocaine in the wall and old rummies at the outside bar.
I got on stage and talked about vomit and Queen Elizabeth. It went well. It went so well that I took a cab home because I thought I had found a career.
Best gig
Last gig of Edinburgh 2018. I was in the cellar or sweat box or sauna office with undetermined smell at the Pleasance, I cannot remember what the room was called. We oversold the room and people were sitting on the floor. It was sweaty and dangerous in that not-actually-dangerous way. It felt like I had accomplished something. What I don't know. BUT something none the less.
Worst gig
I did a show at the Birmingham Highlight and they booed me for 20 minutes of a 20 minute set. It was a hen do of 40 women dressed as Postman Pat or possibly they were the women's auxiliary of a Midlands fascist group and word of a Canadian taking a British person's job sent them into booing action.
I had to snatch my cheque from the club manager's hand as she was clearly gonna try to not pay me because I had done the absolute opposite of making people laugh. I cried from the doorway of the club until I got back to where I was staying in London. Silver lining nobody asked to see my train ticket as I had left it in my wallet which I had left in the club in Birmingham. A real 'highlight'.
Most unusual location
I have done a load of shows on patios in California and one was held on a patio while a huge amount of rats fought. They moved the microphone so the audience could watch the rats and the comedy.
I also have performed in a family's dining room for a grandmother's 90th birthday. They wanted Russell Peters but settled for a Canadian.
The grandmother yelled at me for swearing and I told her to talk to her grandaughter. I then stormed out and then had to return to get the money.
Strangest audience member
I briefly had a stalker who would go to open mic shows and ask the comedians where I was during their sets.
She was a married woman who brought another boyfriend to the shows which must have been a confusing situation for him.
I never found out about this as it was happening. It was only years later when one promoter told me and I asked around. Only in England would something that strange happen and nobody shares it.
• John Hastings I Hate About You - Edinburgh Fringe 2019 at Chortle.co.uk">John Hastings: 10 John Hastings I Hate About You is at Monkey Barrel at 21:30.
Published: 2 Aug 2019
What do you think?