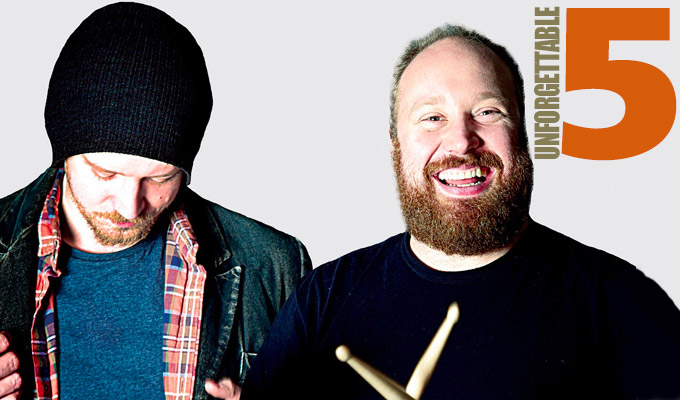 'Ukip, dogging and death threats'
Jonny And The Baptists – aka Jonny Donahoe and Paddy Gervers – recall their most memorable gigs.
First gig
We get asked this one a lot and it's a weird one. Technically our first ever 'gig' was in Zagreb.
We suppose that in 'reality' our first ever gig was a few nights before doing a mixed-bill new material show hosted and curated by Colin Hoult, in the basement of the Leicester Square Theatre. We were obviously shitting ourselves in the wings, waiting for the beautiful Colin to call our name and for us to make our debut as an act.
However. Colin, already relatively pissed and overexcited, couldn't remember the name of our act, and danced around bringing us on for ages whilst he tried to remember. Seven minutes later he introduced us as 'um, John and his … friend. So we're not counting that one.
That was a one-off performance by the avant garde act Um John And His …Friend, who just happened to look like us and do semi-accurate versions of our club bangers Robert and Quentin Blake.
Zagreb we reckon actually counts as the first ever 'Jonny & The Baptists' gig - we sort of headlined a festival of British arts at a university theatre.
We are confident that this is because we were booked in error, but we asked no questions at all, acted like we belonged and it sort of worked (?). The organisers kept calling Paddy 'Stephen' or 'Mr Merchant' so we think they thought we were those guys who did The Office.
Strangest audience member
We once did a show in the round in Summerhall in Edinburgh, in which we were barefoot for the whole thing (the reason for why we have both long forgotten but we're certain it was very meaningful and powerful and possibly sad?).
About halfway through the show, I [Paddy] was on one knee doing a bit of a 'sad' song at Jonny - and during said bit a lady in the audience stood up and crept up behind me.
I had no knowledge of this other than seeing Jonny's face start to go weird as he panicked, and then she was tickling my feet. My leg buckled and I cracked myself on the floor, and in an unprecedented Paddy moment I sort of had a go at her and she went back to her seat.
She came and found me after the show and said she was sorry, but (and I quote): 'Can you blame me? You know me! Whenever I see feet!' That was very much the end of my evening and sort of the end of every evening ever since.
Worst heckler
On our Stop Ukip tour (which as you can see clearly worked miracles), we were playing a working mens club in Leicester. The guy on the door informed us, quite bluntly, that there were 'men here who will not welcome you' and we might need to expect some trouble during the show.
That's fine - we can deal with that. The trouble in question turned out to be one man, who midway through the second song stood up, walked down the aisle and started putting up 'I'm voting UKIP' posters around the walls of the stage.
No one stopped him, and when we asked what he was doing he explained: 'Free country mate! Just making sure my voice is heard'. He put up nine posters before becoming embarrassed at our questions of 'is this really the right time?', and took his seat for the rest of the show.
Right at the end he came up again, systematically took them down one-by-one, all the while loudly stating: 'I'm still voting Ukip but this was probably an error and I'm sorry about that'. A victory? Sure we'll take it.
Worst journey to a gig
We're going to keep this answer short and vague and just say this. We were once on the way to a gig when the comedian who was driving let us know that they 'used to go dogging near this road'. On the way back from that gig, that comedian slowed down their car near that same road and said 'look it's been a great gig...how about I turn off here and we see what happens?'. We politely declined. It was a very quiet car for the remaining four hours.
Weirdest gig
We once did a show where beforehand we received a number of death threats and our details became available online (we believe the reason was a semi-prominent far-right politician saying 'I'm all for free-speech but this show should be banned' - bless).
The theatre we were performing at that night had received a tip-off that someone might hurt us, so asked if we would like to pull the show or seek an 'alternative solution' - obviously that sounds far more interesting and we didn't want to cancel it.
They said we could do the show if we agreed to some 'plain-clothes security and police officers in the audience', and assured us they would be totally inconspicuous and wouldn't create a strange vibe. We agreed.
Five minutes before the audience were let in, we gave the go ahead to the front of house for the reinforcements to 'spread themselves amongst the theatre', and in walked four of the most enormous men we have ever seen, all clad in black t-shirts and jeans with dark glasses, earpieces, and muscles that could suffocate a tiger. They sat in a perfect pattern amid the empty seats, and when the audience came in they were terrified and everyone tried to sit far away from them. Weirdest room ever, especially as we had to give a disclaimer at the start that 'some large men threatened us but we are all safe and there was nothing to worry about because they're not here' without being allowed to address who the other large men were. Chaos. Brilliant.
• Jonny & The Baptists: Love Edinburgh, Hate Bastards is at Assembly Roxy Downstairs at 7pm during the Fringe.
Published: 22 Jul 2019
What do you think?