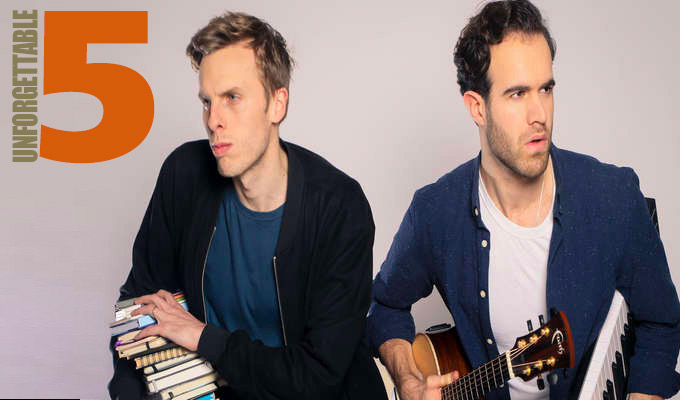 Does 'falling asleep' count as a heckle?
Comedy-poetry-rap duo Harry & Chris recall their most memorable gigs...
First gig
Inn on the Green in Ladbroke Grove, aged 14. It was my [Chris's] indie-rock band and Haz was jumping up to rap over a couple of tunes. It was exciting because there were a lot of girls there from other schools, but it quickly became obvious that they were only there for the headline band, another group of teenagers who were well known for taking their tops off after their opening number.
Best gig
Greenbelt Festival each year is so much fun. We first played there together in a small wet tent about eight years ago, and last year we played the main stage to about 5,000 people. It's almost as if playing the same location repeatedly for almost a decade generates some kind of growing fanbase. Why don't more people try that?!
Worst heckler
We once played a fundraiser in Cheshire and in one of our songs there's a moment where Harry jumps off the stage and high-fives the front row, and in this show it looked like he was getting blanked by one of the ladies in the row, but it turned out she had just fallen asleep. Does that count as a heckle?
Weirdest gig as a punter
My sister came to the Fringe a few years ago and I had recommended a load of shows, but when she was about to leave I thought she should have some of the real fringe experience, so I picked a random cabaret show on the Free Fringe which looked quite fruity.
The show had five audience members (including my sister, her boyfriend and me) and the act included a woman dressed in a full latex bodysuit pretending to ride a tiny toy motorbike, and an actor dressed in just a blazer, whose whole bit was flashing the audience every time they raised their arms.
Most common post-show comment
'So which one is Harry and which one is Chris?'
We tried to solve this in our last tour by wearing boilersuits with our initials on, but for some reason that didn't seem to work.
• Harry & Chris: This One's For The Aliens is at the Underbelly White Belly at 6.40pm during the Fringe ahead of nationwide tour. More info and tickets: harryandchris.com.
Published: 7 Aug 2019
What do you think?