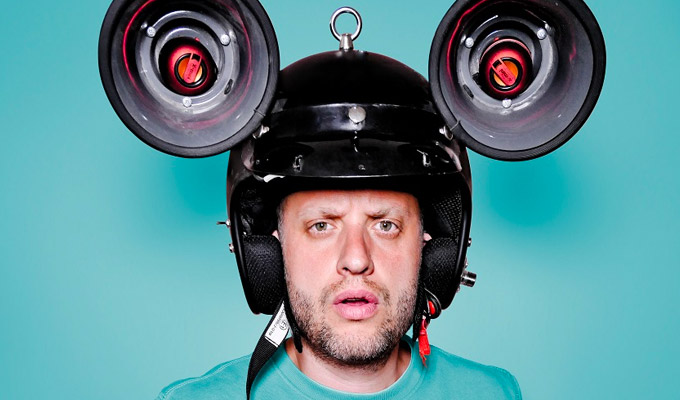 'This small unit of vomit shot out of her face...'
As William Andrews prepares to play London's Soho Theatre next week, here he recalls his most memorable gigs:
First gig
My first gig was in a Christie's cellar - a basement of a bar at the top of the Grass-market in Edinburgh, an early precursor to The Stand. I did a camp (what?) Geordie character and I took the roof off. Of course I didn't - but they laughed 'a bit' and it made such a dent in my brain, it left a hole.
As a doctor* I'm quite sure those early exposures create a need that can never quite be satisfied - which has led to me either being a stand-up or being a temporarily embarrassed stand-up who will be right back just as soon as he's tidied up all this mental spaghetti.
(* Played a doctor in a sketch. Twice.)
Second gig
Second gig was a massive car crash, if the car was made of dogshit that crashed into some more dogshit but of a worse kind.
It was at the same place, about two weeks later and I did it hammered, pissed out my head. I mean what was I thinking? I was 20, so probably nothing much. I remember though, two gigs in, thinking, 'I should probably take a break from comedy, I don't want to burn out.'
What's interesting to me about those times – and this seems to tally with a lot of comics that started then – but what you got up to was mostly to do with whatever club fostered you. If it wasn't for The Stand's support, I wouldn't have got past gig three. Actually what the f**k were they thinking? GIVE ME MY LIFE BACK!
Strangest audience member
I once played the Shoe Fayre Christmas party, so don't tell me I'm not sexy.
There was a woman in the front row who was really laughing, but like over-laughing. Like she'd turned a tap on and couldn't get it off. It was like a madness had gripped her, hysteria.
It was funny to begin with and then the tone changed to something a little darker. Suddenly she puked, but it was more like a cough of sick. A bark. This small unit of vomit shot out of her face and landed on my shoe. Which seemed unFayre. It looked like a cookie.
Worst gig
The worst gigs, I mean, I've had two really really bad ones, one I can't really talk about yet because I'm still dealing with it (sorry Green Man), one that was just – gah.
It was my ten-year anniversary of starting stand up, I had just moved down to London from Scotland and I couldn't find my feet with English crowds. They seemed far more sensitive than the Scottish - I could happily talk about throwing Paddington Bear into the blades of a helicopter up there, but in London not so much.
So anyway, I played the Comedy Cafe last minute on open spot night and the lovely Imran Yusuf was compering. I come on, do my crap and wave to the technician for the first cue - but there's no tech in the booth. Nope.
And then I see, the f**king arsehole is sat on the front row! I panic and dig out something to cover and just as I try and land the punchline of that bit, the tech plays the cue I asked for three minutes earlier.
The audience are completely baffled at this point and I realise I lost this one, so I throw my hands up and ditch it. Backstage, after Imran has put out the fire I left for him, comes up to me and says – and remember, this is my ten-year anniversary – 'don't give up, starting out is hard.' Kudos to Imran, long walk home for me.
Gig again
I knocked it on the head for about ten years after that so my new show, Willy, is a big deal for me. Gigging again, you find that a lot is the same, but for me the big difference seems to be that comics are way more clear-sighted about what they want. Maybe that's the internet that does that, or maybe I've just not seeing it right. I don't know, I'm 40, give me a break.
• William Andrews: Willy is on at Soho Theatre from April 10 to 13 at 8.45pm. Tickets.
Published: 2 Apr 2019
What do you think?