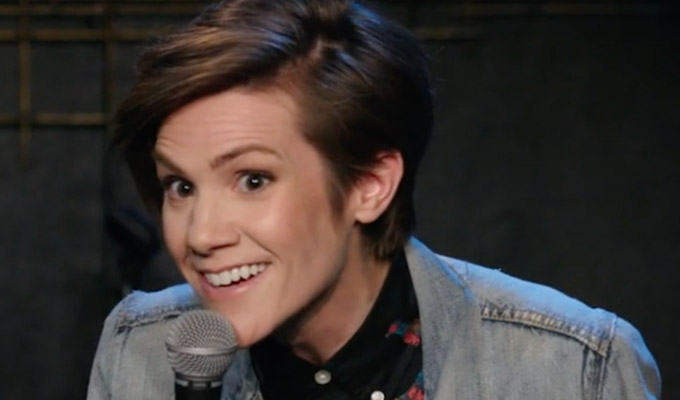 'Bombing in front of 35,000 people made me invincible'
US comedian Cameron Esposito is coming to the UK next week to record an episode of her podcast Queery at the London Podcast Festival, with Mae Martin as her guest. Here she recalls her most memorable gigs…
Gig that taught me the biggest lesson
I bombed in front of 35,000 people once. It was at a venue in my hometown, Chicago, where I'd seen Beyoncé when we were both 16 and she was part of Destiny's Child.
The audience just didn't get me. I ate shit and I had to fill 20 minutes in front of 35,000 blank, disinterested faces.
Surviving that as an artist made me feel invincible. It literally could not be worse than that and I survived so I guess I can't ever fail too big to continue. That is until I bomb for 40,000 people.
Gig that changed my life
My first time doing stand-up on late night TV. It was on Craig Ferguson's show and the one-year anniversary of my move to Los Angeles.
Jay Leno had announced his retirement from late night TV that week and was the other guest on the show that night.
Both Jay and Craig were kind and warm and met me before I walked out to tape my set. I mentioned Jay in my set (in reference to his and my shared love for denim, a major hallmark of lesbian culture). Craig called out to me: 'Are you calling Jay Leno a lesbian?'And I said, 'You don't get that kind of hair swoop without some knowledge of the community.' This was mid-set.
The two invited me over to the couch and I sat between them and we chatted. Perhaps the only time a comic has debuted in front of and with the blessing of two late-night hosts.
Most unusual location
Hmmm… maybe Sasquatch Festival in Washington state here in the US.
It's held at this venue in front of a big gorge called, for some reason, The Gorge. So first off, you're telling jokes in with an enormous chasm in the Earth behind you but also there was a bit of sound bleed from the hip hop tent while I was on stage so I was also performing over a soundtrack of well-spit rhymes.
Just trying to capture anyone's attention set against sweet beats and actual natural majesty is a challenge but then I think it was also very windy. Truly - I'm not fucking with you - I had a great time, somehow did well and got to watch Sleater-Kinney from a catwalk suspended over the stage. 10/10 would do again.
Most exotic gig
Anytime I play a smaller town where gay folk perhaps don't perhaps flow through the streets like so many rainbows.
In all those cases, I'm the exotic thing. I've played them many times and at many points in my career and it's the greatest gift of this job - to just have a chance to connect in some many types of places with so many types of people.
Least welcome post-show comment
You're my favourite female comic.
• Queery with Cameron Esposito will be recorded at the London Comedy Festival at Kings Place on September 13. Click here for tickets and here for details of the full festival.
Published: 7 Sep 2018
What do you think?