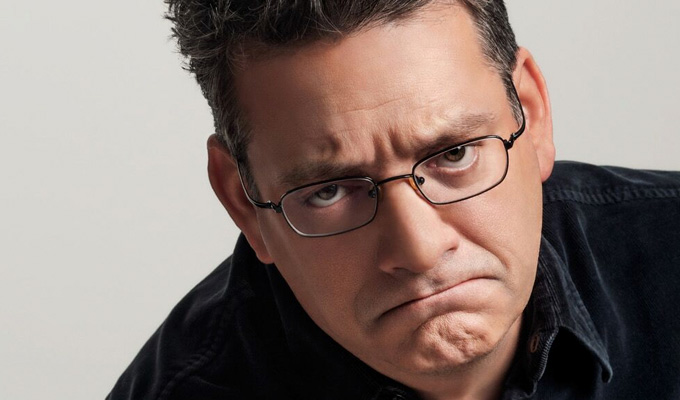 'Rejection feels better when you spread the blame'
American comic Andy Kindler, known for his self-sabotaging shtick, returns to London for the first time in a decade, with a eight-night residency at Soho Theatre kicking off tomorrow. Here he recalls his most memorable gigs….
Least welcome post-show comment
During my 'angry years' which coincided with my 'bombing years' I would turn on the crowd and blame them if the show wasn't going well. This attracted post-show comments like: 'Well I laughed' or 'I thought you were funny.'
Some people still try to figure me out after the show. 'Is what you did up there part of your act?'
If someone says they get me because they're also from New York I assume they're from Staten Island or upstate.
Worst journey to a gig
The first night of a tour through Western Canada many years ago I rented a car and drove with another comic on a bumpy dirt road for two hours, hoping to die or at least get a concussion so we could back out of the show.
When we got to the 'town' where the 'club' was we noticed a growing infestation of some kind of flying moth. I couldn't see well and was swallowing insects which made the comedy more delicious. Needless to say I killed!
Most unusual location
I visited the Richard Branson-owned Necker Island to attempt comedy for the Sports Illustrated Swimsuit Special.
Guys love two things- scantily clad women and sarcasm. I got to hang out and banter with Heidi Klum but the chemistry was off. English was her second language and I'm unattractive.
When did I become Groucho? Why am I turning this into some kind of vaudeville sketch?
First gig
I was in a comedy duo when I started. Rejection feels better when you spread the blame.
My first gig on my own was at a restaurant called Seymour Hamm's. It was a gathering place in Torrance, California, for the local theatre crowd, which I don't believe exists.
One of my 'jokes' was about the poor quality of the food. I claimed that the chef's name was Boyardee [a brand of canned pasta products in the US] and that the secret ingredient in his Italian sauce was ketchup. This, along with everything else, got nothing. I walked off the stage to my car and sat behind the steering wheel sobbing.
Worst heckler
The worst heckling is boring and blunt. It's not even heckling. Some people get offended when they don't like comedy and are simply crying out in pain.
Someone once yelled out 'be funny' during my show as if I forgot I was playing at a comedy club and brought my 'observations that go nowhere' notebook.
I don't have prepared audience put downs so often I will just fall silent, bail on my act, and walk off the stage defeated.
Published: 5 Sep 2018
What do you think?