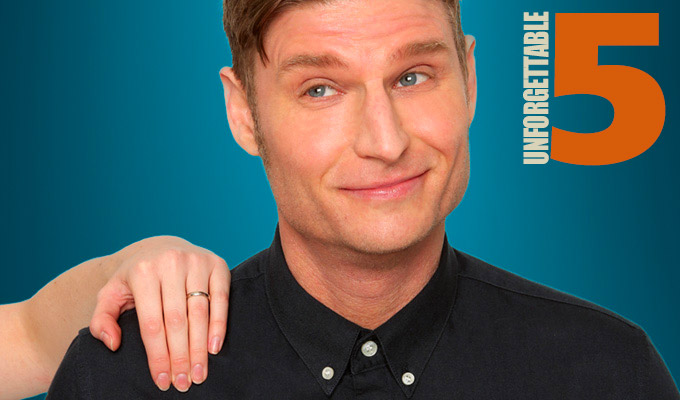 'It was like playing bellend Whac-A-Mole'
First gig
A gong show, above a pub in 2009. My wife and friends were there, I was so nervous, but bizarrely I won. I think that probably gave me a false confidence that inspired me to keep going. If I had died horribly (an experience which came later) I may never have put myself through it again.
I don't remember much about the set I did other than there was a very long and not very funny routine about Tricolore French textbooks. Shout out to La Rochelle!
Best gig
Doing tour support for Rob Brydon at Huddersfield Town Hall. A full house and a home fixture back in Yorkshire for me. It was an incredible gig.
It was also my first gig after leaving my day job to pursue comedy full time, so it felt even more significant.
The other factor that made it particularly special was that I had Rob's autobiography which he had previously signed for me back in 2009, the night before that first-ever stand-up gig. I took that along and he completed the other side of the page with a new inscription. A great gig and some memorabilia that I'll treasure forever.
Worst gig
There are too many to mention. One that sticks in my mind is a gig at golf club for a sheet metal company. It was the classic story of someone who has seen you have an amazing gig in a comedy club and thinks that this can be easily repeated in a converted scout hut in Runcorn.
I had no interest in golf or experience of sheet metal fabrication, which became alarmingly apparent five minutes into my set. I was the only act and meant to be doing a 30-minute set. Before I started, the master of ceremonies, who was clearly a frustrated comic, got up and did ten minutes of classic pub gags, which naturally went down a storm.
It was at the time of a World Cup and he helpfully pointed out that if I happened to be shit, they would switch the TV on and they could still catch the end of Brazil v Belgium.
The clues were there that this wasn't going to go well. I still remember the poster they had printed; at the top it said 'Golf Day', underneath 'Charity Raffle' then 'Three Course Meal', and then in small type underneath 'A Comedian'. Not even a name!
I was effectively just the warm-up for a roast dinner. That's not a comedian, that's a microwave.
The tech set-up left a lot to be desired. I was lit by the glow of two 60W bulbs and was tethered to a small PA with a Fisher Price microphone that had a one-metre lead and kept cutting out unless you held it in a certain way.
The equipment had been provided by the manager of the club who had stuck it on a wallpaper pasting table, and he kept walking across me when I was on to adjust the volume up and down. As he did so he would occasionally shout encouragement: 'Speak to Alan, he likes to have the piss taken out of him!'
Just before I was introduced to the 'stage' (some carpet in front of a notice board), the master of ceremonies made a short announcement… I say announcement, but it was more like a eulogy.
'Before we start, I just want to say a few words about Peter. As you all know we lost him last week, he was a good man, he'd been ill for a while, and I'm sure we'll all miss him. His wife has thanked you all for the flowers and cards and she'll put up details of the funeral on the noticeboard next week.
'But he loved a laugh did Peter, so he'd love this guy. Here he is… Scott Bennett.'
The audience, made up entirely of men, were sat on round tables, a good 15ft away from me. Many of them didn't even turn around. After trying and failing to get anything from my material, I noticed that the audience had decided to gradually ignore me en masse; they started conversations, used phones, one man was reading the receipts out of his wallet.
In desperation, I tried to chat to them. I was free-falling and my arms were out trying to grab some branches. I eventually found Alan and before I'd even had chance to start the conversation he said, without even looking up from the table, 'I'm not helping you sunshine.' It was brutal.
I did my time and came off and hastily made my way to the exit, not before stopping off at the toilet where I could hear audience members slagging off my act while I was sat in the cubicle. I had to wait 20 minutes before It was safe enough to leave.
Incredibly, they asked me back the following year. I declined.
Worst heckler
I've come across a few of these over the years. I've had a man who has fallen asleep during my set in the front row, full on snoozing with his head tilted back and his mouth open. That's not a heckle, but you have to admire the planning for that. I bet he stayed up all night just to make that happen.
I've had an audience member who shouted 'wa wa waaaa" like a gameshow sound effect after every joke I did. What made it worse was that I couldn't see him in the darkness, he was like a sniper.
He was obviously with a group of mates too because at one point I thought I'd dealt with him, only for the same heckle to sound off again, this time on the opposite side of the room. It was like playing bellend Whac-A-Mole.
Least welcome post-show comment
I've had many of these, some which range from: 'You're getting there, keep going' which sounds like a parent cheering on a child at sports day, to the classic when compering: 'You should have a go at being a comedian too.
But my favourite one is some feedback left on my Facebook page which sounded positive at first but upon reading it back, I'm now not so sure:
'We saw Scott Bennett at a comedy night in Chesterfield. We liked all the acts but after Scott had been on, no one felt like laughing any more'
That could be taken either way.
• Scott Bennett: Leap Year is on at Just The Tonic at the Mash House at 17:55.
Published: 12 Aug 2018
What do you think?