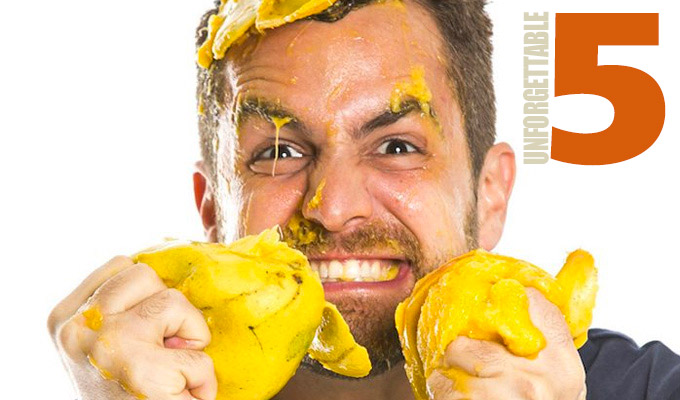 How I learned that in tough times I can always rely on my jokes
First gig
In Caracas, Venezuela, about 11 years ago. My friends Cesar, Bobby and I put up a gig from scratch. Hired a room, borrowed a PA system, stuck a couple of nightstand lamps upside down to the ceiling for spotlights.
In Venezuela stand-up comedy as a format was considered the new thing. Everybody wanted to be part of it; 'it's like that American show Seinfeld on the telly! What a novelty!' We invited our friends and family, 40 of them came, donation bucket at the door. It was my first date with comedy, today we are married.
Best gig
I have many memorable gigs. But my first time doing comedy in English after emigrating to Australia is the most significant gig of my career. That open mic spot at the Rhino Room in Adelaide gave confidence and reassurance. That was the day I found out I could make people laugh in English and that I was going to be able to continue my comedy career in my new country.
I don't know what would have happened if I bombed that night. What a defining moment indeed.
Most unusual location
In Venezuela, the state of Barinas. A ping-pong table for a stage, outdoors, night time, no spotlight and a big swimming pool in front of the ping-pong table. A friend and I were the entertainment while the judges decided the winners of a fishing competition.
We drove four hours to get to that gig. Only four bored wives who hated fishing paid attention to our jokes, they were grateful.
Worst journey to a gig
Walking from my cabin to the stage on my first cruise ship gig. Horrible storm outside, the ship was pretty much floating sideways, going up and down like the hope of Venezuelans after a protest against the government.
Worst motion sickness experience, cold sweat, chills, nausea, vertigo, head spins, the lot. It felt like I was in the hotel hallway scene in the movie Inception. Got to the stage, sickness bag in hand, hugged the mic stand and never let it go.
Gig that taught me the biggest lesson
Right after breaking up with my wife after 16 years together I decided to go on the road and gig as much as I could. I didn't want to go back to the so called 'real people's world' for a while.
One night, at a gig somewhere in Australia with the Melbourne International Comedy Festival Roadshow, I was backstage and I decided to listen to the music my grandma used to listen when I was little; for some reason when people are in 'a bad place' we tend to go back to basics. My grandma's favourite music was hard core, traditional, deep, emotional flamenco, the kind of music that hits you right in the core.
I was sitting backstage in a room full of comics, the show had already started, I put my headphones on, closed my eyes and I immediately started crying to the soundtrack of nostalgia, memories and 'what-ifs'.
My trip was interrupted by Bridget, the road manager. She tapped my shoulder, I opened my eyes and there she was looking genuinely worried about me. She asked, 'are you OK?' I said, 'yes' while wiping my eyes, she then asked if I was OK to perform, It was my turn to go on stage. I replied with an uncertain 'sure?'. I washed my faced very quickly and stand next to the stage waiting to hear my call.
I went on stage and punched the show mode button as hard as I could. It felt weird but great, my mind was blank, I was fully aware of every reaction of the crowd, I wasn't thinking about anything, not even my set but I was still delivering the jokes and the audience was laughing hard.
I've never been able to meditate but from what I've read I guess I did 15 minutes of mindful meditation that day. The reaction of the audience was the biggest hug someone could ever received and it was exactly what I needed.
After my set, Bridget and fellow comics looked at me with an expression like saying 'we were worried about you and now we know that you'll be fine because you have comedy'.
And that was my lesson, to be grateful to have a career that I love and that that career will be always be there for me in good times and bad times.
I also learned that when you put a lot of effort and time on writing and developing good solid jokes you can rely on them to do the work when you are not in the best place.
That night, my jokes where like grownup children helping their broken father. I learned that in tough times I can always rely on my jokes.
• Ivan Aristeguieta: Juithy is on at Pleasance Courtyard at 19:15.
Published: 11 Aug 2018
What do you think?