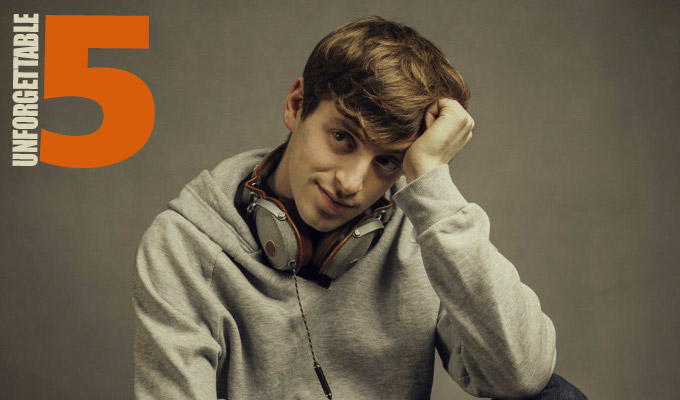 'Every night there was a guard outside holding an M-16 rifle'
1. Machynlleth Comedy Festival: Wales, 2012
Machynlleth Comedy Festival is this small festival in a small town in Wales. I went in 2012 and it very much changed the way I do comedy.
But also, I definitely shouldn't have been there.
I was studying abroad in London for my last semester of New York University and I'd sort of stumbled headfirst into the Alternative Comedy Memorial Society and its associated shows like Storytellers' Club and Josie Long's Lost Treasures Of The Black Heart. All three of those shows were at Mach Fest and I was on their bills, so I went.
It was my first time visiting anywhere in the UK outside of London and the festival was basically a sampler of what was stellar and interesting in UK comedy. It was a weekend long crash-course in ambitious, personal stand-up.
I remember seeing folks like Elis James, James Acaster, Josie, Ben Target, Josh Widdicombe, Nish Kumar, John-Luke Roberts, Tony Law, Stewart Lee, David Trent, Sara Pascoe, and Robin Ince. Imagine encountering all those comics for pretty much the first time. Over the span of two days. In a small and crowded and delightful festival in Wales. It blew my mind and made me realise how much I wanted to do hand-crafted and ambitious hours like the ones I was seeing.
It's not all roses. I was so caught up in the spirit of the festival that I caught a deathly cold swimming in some glacial runoff with Josie and swiftly passed it on to John-Luke. Who wasn't pleased. Also, at some point, I realised that, unlike most US comedy festivals, it was intensely and carefully curated by Josh Widdicombe's brother, Henry. And it was very poor form to show up as a comedian who hadn't been officially invited.
So, Henry, I'm extremely sorry. I think about it every few months and cringe. But also, that weekend may be why I'm a working comic. So, also, thank you so, so, so much.
Opening for Beck: Riverside Theater, Milwaukee, 2017
Opening for a musician can go one of two ways. In cities that aren't New York, Los Angeles, Chicago, or London it's way better because the audience actually will show up for the opening act. Milwaukee was one of those cities and this turned out to be a blast.
Also, Beck is the fucking coolest. Go Beck.
Comics Come Home: Agannis Arena, Boston, 2005
When I was a child, a relative snuck me into the first live comedy show I'd ever seen: Comics Come Home in Boston, Massachusetts. Denis Leary puts on this huge benefit every year to benefit a local ice hockey hero's cancer foundation and he packs the line up with celebrities and local friends. The year that I remember most was 2005. It was Leary, Bill Burr, Patrice O'Neal, Brian Regan, Colin Quinn, etc.
I was a tiny boy but I remember watching and being gobsmacked, especially by Patrice, who came out wearing a Yankees hat and was lustily booed for it. His reaction was the funniest shit I saw all night.
Off the Wall Comedy Club - Jerusalem - 2009
I was a few months removed from high school when I went to Israel for a year to study at a rabbinical seminary called Yeshivat Shvilei HaTorah. I was interested in doing comedy and Google offered the existence of a guy in Jerusalem doing English language stand-up.
I went to go see him perform and when he told me he was opening a club. I begged to be involved. He agreed and when he rented an old ice-cream place and started to turn it into a venue, I helped. I assembled the stage with him, installed a bar and toilets, carted drinks in. It was heaven.
On opening night the club wasn't finished. The walls were half-painted. The bar lacked a top. The place was packed with Jerusalemites. It was great. It's the club where I learned to do longer sets because honestly the talent pool was pretty shallow.
It was still tense, at times. Every night there was a guard outside holding an M-16 rifle. People's sacred cows in that part of the world are things they tend to take seriously. There were nights the city felt like a powder keg and we were located at perhaps its most notable intersection.
One night, two Palestinian comedians walked in right before I went on. We'd had a pretty sizeable Arab clientele, but this was the first time Palestinian comics had appeared. The audience's apprehension and concern and excitement created this unforgettable vibe. I remember the taste of the tea I was drinking while I watched the them do their thing.
It was truly surreal. One of the comics, Ray Hanania, did a joke about hotel rooms or something and this bearded settler sitting at the bar cracked up. I mean, where else could a thing like that happen?
Comedy Sans Frontieres: Admiralspalast, Berlin. 2015
To celebrate the 70th anniversary of the end of the Second World War, Eddie Izzard and his promoter Mick Perrin put together two shows - one in Berlin, and one in Moscow - on VE-Day. Although they probably don't call it VE-Day in Berlin.
There was one comedian from every country seriously involved in the European Theatre there. Francesco DeCarlo represented Italy, Igor Meerson represented Russia, Yacine Belhousse represented France, Izzard represented the UK, I represented the United States, and Michael Mittermeier, represented Germany.
Mittermeier is one of the only comedians in Germany who does personal material instead of basic observation or street-joke pastiche and his country has rewarded him for his creativity by making him a huge star. He hosted the show in Berlin. It'd be like having Chris Rock host in New York. Admiralspalast is an 1,800 seat venue. And it was loud.
It was the first time I'd ever been to Germany and I was feeling shaken up because of a visit to a Holocaust Memorial about two hours before the show. Mittermeier was crushing as the host. The positive energy was wonderful. My heart was in my throat the entire set, and I was in tears almost immediately after I got off stage. I'm a real wuss. I still hear about that set from people who were there.
By the way, it's worth pointing this out, I think. Eddie Izzard had just spent months campaigning for Labour and the night before the shows they had gotten creamed in the elections. Izzard, who I'm sure would have rather been taking a well-deserved few days to himself, had to get to Heathrow crazy early the next morning, and spend the next two days playing headliner, host, and goodwill ambassador in two different countries. He was magnificent.
Russia was crazy and someone bribed a soldier to let us into a closed Red Square and I almost got shot because I took off running in the wrong direction and it was very embarrassing. I saw Mittermeier recently and he deservedly mocked me for it but that's a story for another time because this is already too long.
• Alex Edelman: Just for Us is on at Pleasance Courtyard at 20:00.
Published: 10 Aug 2018
What do you think?