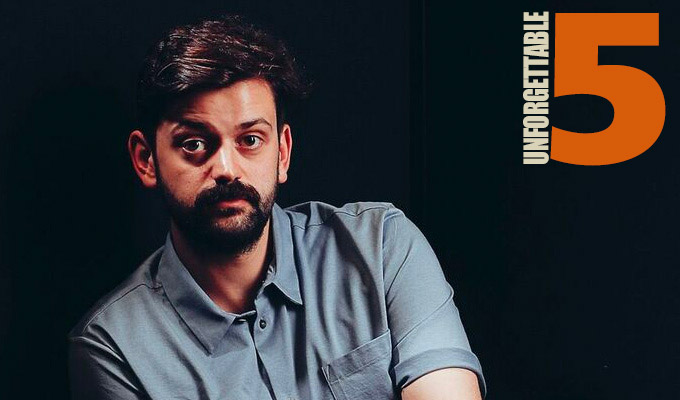 'He would black up with Marmite and then smash a toaster into his face'
First gig
Oppo, Bristol, November 2008. Mark Olver MCed and booked it and I believe Elis James was the headliner.
I had met a fellow wannabe at my halls in university called Leo and we did our first gigs together. I think he gave up by the time we left uni, but not before he had perfected his trademark bit called 'Man vs Toaster' where he would black up with Marmite and then smash a toaster into his face. He once did it so hard he passed out briefly. We all thought he'd gone mad but looking back on it, the way wackadoos are venerated nowadays he probably would have been nominated if he'd stuck with it.
Gig that changed my life
Still waiting.
Worst journey to a gig
Myself, Desiree Burch, Spencer Jones Adam Riches and Nico Yearwood were all booked to appear in Rotterdam for the Comedy Festival last year.
Upon arriving at Gatwick at 5am for a 7am flight, we discovered the flight had been cancelled. The promoters over in Rotterdam stick us on another flight, from Heathrow leaving at 4pm. Riches and Jones decide to pull out of the gig at this point because of their props and silly hats weighing them down. It was to prove a wise choice.
So I travelled back to North London where I was living at the time to catch some more Zs before making my way to Heathrow. Desiree, Nico and myself board the flight on time, due to land in Amsterdam at 6pm with an a hour and a half transfer to Rotterdam getting us there minutes before we're due on stage. Surely this is where the story ends?
Well, just like that fateful day in September 2001, it wasn't until the second plane where the full extent of the trauma became clear.
Because the Heathrow flight just sits there. And sits there. And sits there. Until we are told that the pilot is not convinced the brakes are working. He then instructs us to wait half an hour, get off the plane, re-enter the terminal and then board a different plane, resulting in a two hour delay to the journey. At this point Desiree and I both realise that we would miss our gigs in Rotterdam and decide to call the promoter to sack it off.
The promoter replies that we could always go on to do 10 minutes at The Late Show at 1am. We politely decline. I then head back into London, having spent my Saturday making return trips to both London's major airports without leaving the country at all.
Nico Yearwood made it to Rotterdam, did the late show, and said it went 'fine'.
Best gig as a punter
Political Animal, The Stand, Edinburgh 2011. John Oliver was back in the country briefly and hosted the evening alongside Andy Zaltzman. I was a slave to The Bugle at university and to see the dynamic live for the first and possibly only time in years was a real highlight.
Least welcome post-show comment
After a set in Australia someone came up to me and said: 'Stop being a cunt mate.'
I said: 'Sorry, what?' to which he replied: 'I said never stop being a cunt mate' which I then realised is a compliment and something I have cross-stitched and hung over my mantelpiece.
• Fin Taylor: When Harassy Met Sally is on at the Pleasance Courtyard at 21:45
Published: 7 Aug 2018
What do you think?