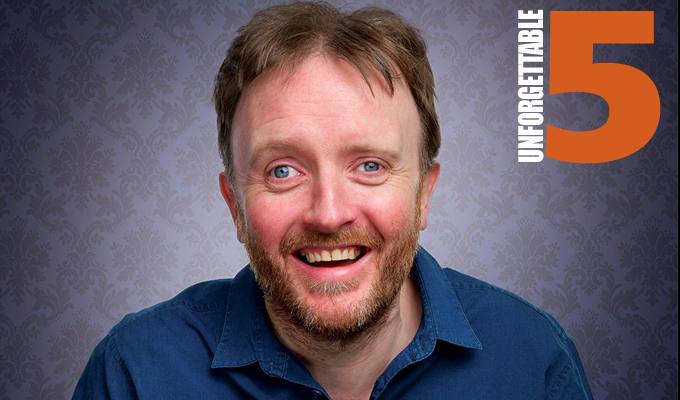 A punter started fighting me to prove I wasn't blind
Strangest audience member
Probably the bloke who tried to punch me to prove that I wasn't blind.
Some years ago I was performing at Birmingham Jongleurs, when a pissed-up idiot decided that I couldn't possibly be blind, and that the best way to prove this to everybody, would be to get on the stage and try to punch me. I think his logic was, if he unleashed one of his trademark left hooks and I dodged it like a pro, then he would have revealed me to be a fraud, and would in turn receive the adulation of the packed out house. And if I didn't make any attempt to avoid his fist whatsoever, then... well I don't think he'd thought that far ahead, to be honest.
The first I got wind of something happening was about three-quarters of the way in to my twenty-minute set, when the audience suddenly as one, let out a hiss of disapproval. For just the slightest of moments I was flummoxed as to what I had said. It was then though, that I sensed the movement of somebody to my left, and as I turned to face it, a bloke grabbed hold of me by the front of my shirt and started to wrestle me. I instinctively grabbed hold of him as well, and the two of us were suddenly grappling in front of a packed house of increasing noise and frenzy..
Basically, he managed to yank his left arm free from my grasp, and pulled it back to land a punch on me, when suddenly the club security literally charged him at full pelt from the front of the stage and splattered him against the back wall. The audience were baying for blood by this point, as security proceeded to carry him off between them like a rolled up carpet.
After the show, one of the security guys came up to me and said, "Sorry about that Chris, don't worry though, he fell down the stairs a few times." When I asked what his problem had been, they simply said "He was pissed Chris, and he didn't think you were blind."

Best heckler
Back in early 2004, when I was very new at all this comedy lark, I was doing a heat for a new act competition. I walked on to the stage and introduced myself, and told the audience that I was blind as the set up to my opening gag, but before I could even get another word out of my mouth, a big booming voice in the audience shouted out, in perfect pantomime fashion: 'We're behind you!' The audience and I all pissed ourselves laughing. Haha, very good!
Worst gig
It doesn't get much worse than being compered on to the stage by an escapologist, and then proceeding to die on your arse in front of five bikini clad dancers.
I was booked to do a set at a Christmas Party for The RAF Officers Club in Lincoln. I was the only stand-up comedian on the bill, and they put me in a green room that I was sharing with five young sexy bikini clad dancers. Yep, sometimes being blind is a real arse!
The guy who was hosting the entertainment was a magician, who obviously fancied himself as a bit of an escapologist, because as I was stood at the side of the stage waiting for him to introduce me, he decided that he was going to lock himself in a box. I suppose one of the key factors in the success of any escapologist, is that your audience really does need to give a shit that you are locked in a box. This audience couldn't have given two hoots, and while our hero was locked away for ten minutes - yes ten bloody minutes - everybody just got up and started mingling and doing their own thing, and the room very quickly deteriorated into a free-for-all social piss up.
When our hero did finally manage to free himself from his box of doom, nobody even noticed, so he just introduced me straight away, and on I went to a room that had stopped giving a toss about ten minutes ago, and were having a much better time doing their own thing. I died on my arse for twenty minutes just talking at a room of noise, with the only people paying any real attention to my suffering, being the five bikini dancers who were waiting at the side of the stage to come on after me. I did consider locking myself in that box.
I don't compere gigs myself. I don't have the necessary skills or optical aptitude to do so. But I do know that rule number one is probably: Don't lock yourself in a box!

Best gig as a punter:
Back around 1997, I went with my then girlfriend and a uni mate to watch Eddie Izzard's Glorious at the London Docklands Arena. We were students, and so either hadn't have the spare cash, or the organisational skills, to have bought tickets for it months in advance, and it had sold out long ago.
When the shows came around though, we decided to just head across London on spec, to see if we could pick any returns up at the venue. They had us queue up outside without any hint as to whether we might get in, and with just a couple of minutes to go before the show was due to start, they ushered us in, took our cash, and sat us in prime location seats.
We couldn't have had more than about 90 seconds to get comfortable, before Eddie came out and knocked our bloody socks off. It was the first time I'd seen him live, and the combination of this fact, coupled with the brilliance of the show, and the thrill of getting in, and the nervous energy of sitting down just before it started, all added up to create the perfect storm of a live comedy experience.
We left that venue on cloud nine that night, with huge grins on our faces, our sides literally hurting from laughing so much, and with several packets of Eddie Izzard branded Glorious size Izzla between us - but I've no idea what happened to those, honest Guv.

First gig
This was at the new act night at the Bedford in Balham on July 29, 2003 at 9:22pm, roughly speaking. To say I was nervous would be an understatement. The gig was on a Tuesday, and I had taken both the Monday and the Tuesday off work to pace around my flat and recite the five minutes of stuff that I had prepared, whilst drinking copious amounts of coffee and chain smoking Marlboro Lights.
I wasn't a performer, I was a computer guy. I think the last time I'd been on a stage was probably a school nativity or something similar, but the reason I was putting myself through this ordeal, wasn't because of any dreams to do this as an actual job, I was just a massive stand-up fan who had dared himself to have a go to see if he could make anybody laugh and just chalk it off the bucket list.
I think I had probably over rehearsed if I'm honest. I was so hung up on remembering the words, that my delivery was the most monotone stilted expressionless dreary old load of codswallop that you can imagine - basically it was like the stand-up comedy equivalent of a song by the Lighthouse Family.
The upshot was though, that enough people chuckled at enough bits to make me do it again, and then again. I had some gigs in that first six months or so, where I thought, Jesus, if this was my first one I don't think I ever would have had the guts or desire to try it again, but luckily for me, that first gig was just nice enough to give me the bug, and here we are fifteen years later and I'd like to think I've improved a great deal, which is more than can be said for the Lighthouse Family.
That new act night at the Bedford was run by a lovely charismatic Australian bloke called Ed Balls who is sadly no longer with us. He was such a big part of getting me up and running with all of this nonsense, so cheers Ed!
* Chris McCausland: Speaker Blinder is on at Underbelly Bristo Square at 18:35
Published: 2 Aug 2018
What do you think?