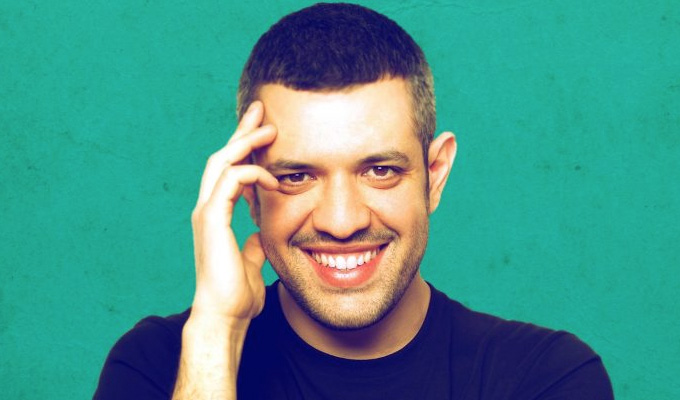 Learning the word 'Glaswegian' the hard way...
Italian comedian Francesco De Carlo is coming to London this week. Here he shares his most memorable gigs:
Gig that taught me the biggest lesson
In Bologna, Italy. In 2017 I did a little tour in the north of Italy; a gig every day for five days in total, visiting Bergamo, Milano, Forlì, Parma, and finally Bologna.
Usually, when you do a gig in the UK, you go straight to bed after the show. You may have a couple of beers with a fellow comedian or the promoter, but that's it.
In Italy it is totally different. First of all, everywhere you go, they offer you a lot of local food. They're very proud of it as well, which makes it hard to turn down.
Then after your show, a group of very friendly people stay with you, drinking and talking until late. Very late. Next morning, you have to take a train and go to another town to do another gig.
When I arrived in Bologna, after four gigs in a row, I was done. I knew my show very well and I kept doing it, but I was knackered. So, I explained to the audience that I wasn't feeling very well and for the first time in my life I asked for a break. I went outside for some fresh air. However, a handful of young people came outside with me, thinking that I was joking and that it was all part of the show. It was a nightmare!
The lesson is this: if you gig in Italy make sure that you take at least one day off In Between shows.
Worst heckler
I would say worst 'hecklers', plural, given that they were many. Last time I was up performing at the Edinburgh Fringe Festival, I learnt the word, 'Glaswegian' as a result of some very rowdy audience members. It was almost the end of the run and I was very excited about that specific night as there were industry people expected to come down and the show was sold out.
However, two minutes before the start, half of the room was still empty. To my surprise, it stayed that way until almost 15 minutes after I'd actually started the show. Regardless, it was going great and then a large group of Glaswegian people came in. They were clearly drunk and very loud. They dropped four glasses during the show.
I tried to interact with them (bad idea), but their accent didn't help and it ended up being one of the most complicated gigs I've ever done. I now understand that a room is like a glass; if it's only half full, don't worry, be optimistic and focus on the people who are there.
I had a chance to visit Glasgow again earlier this year when I played The Stand, which completely changed my mind about that city and its amazing citizens. That Fringe show was just bad luck.
Most exotic gig
I once played in South Korea for the International Comedy Festival in Busan. I was with my friend and fellow comedian Loyiso Madinga, from South Africa. They told us we were the first two International Stand-Up comedians performing in Korea.
Humour in Korea is very peculiar and during the gala we realised that it was all about characters, sketches, magicians, weird costumes and a lot of wigs (very similar to Italian humour). I remember that we were very worried watching the gala, imagining the reactions of the audience to our monologue the next day. We were expecting people saying: 'Why do you talk so much? Where is your wig? Can you dance?'.
However, the show went very well, and luckily there was no need to dance.
Most unusual location
La Nouvelle Seine in Paris. I played there in 2016 with another friend and peer, Yacine Belhousse, who is from France. It was just great. La Nouvelle Seine is a theatre on a boat on the Seine, very close to Notre Dame. It's was an amazing location and love was spreading from everywhere; an incredibly romantic situation. Unfortunately at that point, I had just broken up with my girlfriend, but it was still lots of fun. And tears.
Weirdest gig as a punter
Doug Stanhope (one of my favourite comics). He was playing in London and the show was brilliant. After a while, members of the audience started to bring drinks to him whilst he was on stage. He ignored the people, but kept drinking whatever they brought him. It was a very interesting thing to see, because it was like a sign of respect to him.
After a while, he had had enough and asked the audience to stop and started to offer drinks to the first row. I was amazed, even if the drunker he got, the harder it was for me to understand… But it was one of the best gigs I have ever been to.
• Francesco De Carlo will be taking his Edinburgh show Comfort Zone to London's Soho Theatre from Thursday to Saturday.
Published: 14 May 2018
What do you think?