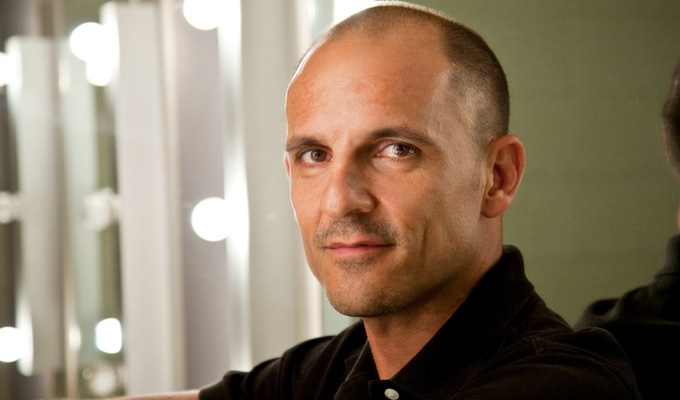 Carpet is the enemy of comedy
On the eve of a rare London date tomorrow, Australian comedian Carl Barron shares his most memorable gigs:
Worst gig
I think the time a guy came out of the audience and got me in a headlock. I definitely wasn't ready for it.
I don't know why he did it. I wasn't offensive at all that night. I was on stage and out of nowhere he jumped me. When he got me to the ground he wasn't violent or anything but just hugged me and lay on top of me. I could feel his rancid breath on my face. It was odd.
I was doing well, the next minute I was cuddling a bloke on stage. I calmly told him to let go and to go back to his seat, which he did. He got straight up, sat back down and watched the rest of the show on his best behaviour. Top night.
Gig that taught me the biggest lesson
Years ago I was doing a late show at The Comedy Store in Sydney feeling good when a drunk group of people arrived and started talking. I tried to ignore it but I couldn't. I stopped the show and threw someone out because they wouldn't shut up, I was angry.
A comic friend pointed out after the gig 'Carl, you can't go from being pissed off to twee and expect the audience to buy it. You can't pretend to be happy on stage if everyone has just seen you be angry.'
The lesson for me is that you can't fake something you don't feel. I remind myself always that there are people out there sitting, watching your every move, listening to your every word. They can smell a lie. Unless they're drunk.
Most unusual location
Under a tree.
I performed for Aussie soldiers on a tour of duty in East Timor. It was a small unit in the hills of Timor. No stage, just grass and a tree. No microphone, no intro, nothing.
I felt very nervous going into that gig. I had full sun on my face. Ask any comic what kills comedy, sun will be one of the first things that comes up. That along with high ceilings and an auditorium full of carpet that soaks up all the laughter. That would be my deadly trio. There is no such thing as a tough crowd, only too much carpet.
There were about 12 soldiers standing around that tree watching that day. It went a lot better than I thought. I was surprised. Apparently the grass doesn't soak up the laughter nearly as much as carpet does.
Least welcome post-show comment
I died a bit of a death at a tiny comedy club in New York years ago. I was doing a warm-up spot for my own show later that week. So this was my first taste of what the Americans thought of my 'stuff'.
I thought I was all right to tell you the truth. But what goes on inside your head doesn't always match reality. They politely stared at me for about 20 minutes or so. My face got hot. I always know when I'm struggling when my face goes hot.
I finished the spot and quickly bolted outside to avoid the accolades when a real country boy with a thick southern accent approached, looked at me in earnest and said: 'Keep it up son' with a patronising pat on the shoulder.
I'd already been doing comedy for about 12 years by then. It was like being at a wake. It was wooden floors so I couldn't blame it on the carpet.
The best gig
The first one. Does every comic think that?
My first gig at an amateur comedy night at a pub where you have nothing to compare it to. If it's lousy and you bite the dust, you can just go back to work the next day and carry on like nothing ever happened.
It's only when you start to become good does the horror start; then you have something to live up to. Then you can ruin your previous reputation. On the first night you have nothing to prove. If it is a death, your death is in a vacuum, it doesn't exist. They don't even know your name. If you crash and burn they just think: 'There goes that guy.'
Then you get better, people know your name and can utter things like : 'he wasn't very good tonight.' For me it will always be the first night.
• Carl Barron: Drinking With A Fork is at the Eventim Apollo in Hammersmith, West London, tomorrow. Click here for tickets.
Published: 2 Mar 2018
What do you think?