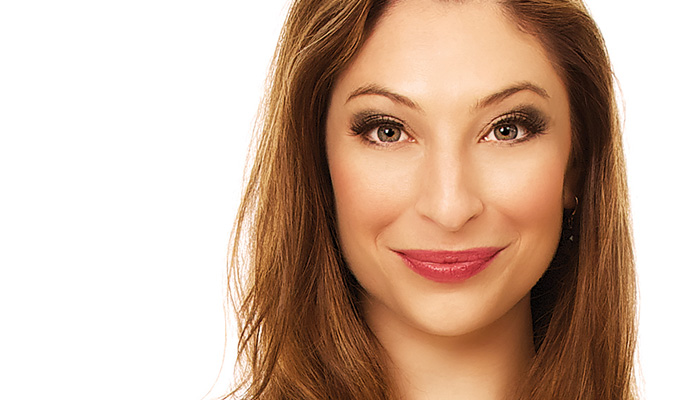 Some unwelcome feedback...
As musical impressionist Jess Robinson prepares to embark on her UK tour, she recalls some of her more memorable gigs…
Strangest audience member
I did an Edinburgh preview a couple of years back at the Canal Cafe in London. I knew it hadn't sold well as I'd done nothing to promote it, but when I walked out on stage I only saw five faces staring back at me: mum, dad, my sister, her boyfriend (all on free tickets, sitting at the back) - and alone at a table, front and centre, was a scruffy bloke with wild hair, wearing  jogging bottoms with a plastic carrier bag full of newspapers. He was the only paying punter.
I was so pleased he'd actually bought a ticket, I performed the whole show just for him. And he laughed and clapped and had a lovely time. I think it was one of my best performances actually.
Afterwards he joined my family and me for a drink in the bar. Now he's affectionately know as 'Uncle Brian' and comes to as many of my gigs as the can.
Most disruptive audience member
A couple of weeks ago I was trying out my new show. We had to stop the performance at one point because there was some really bad squealing interference feeding back from one of the speakers.
For ages the tech guy couldn't understand what was causing it until, at last, we realised it was due to a weird setting on my 102-year-old grandma's state-of-the-art hearing aids. She was sat next to mum on the front row. 
Worst journey to a gig
On my way up to the Edinburgh Festival, I was stuck in standstill traffic on the motorway. We were miles from the next service station, I was surrounded by stationary cars and I was bursting for the loo… literally about to wet myself.
Things were really desperate, but hey, I'm creative in an emergency. I downed the remaining water from my 2-litre bottle, put a plastic Sainsbury's bag on the seat (for protection), lifted my skirt as subtly as I could without the neighbouring van drivers seeing, and tried to carefully wee into the bottle using a 'she wee funnel' I'd fashioned from the annual homemade 'good luck for Edinburgh' card from my parents.
Unfortunately, due to the low quality of the recycled cardboard, it immediately disintegrated. It perhaps didn't help that I got the angle of the funnel to the bottle neck disastrously wrong. I had to drive the next 30 miles with – as Mary Berry would put it  – a very soggy bottom. 
Scariest gig
Britain's Got Talent. I was surrounded by clowns, knife throwers, granny DJ's, dancing dogs and a unicycling transvestite called Tony. This was in NO WAY a normal gig.
Before I went on stage I could hear the 2,500-strong audience at The London Palladium chanting 'OFF! OFF! OFF!', while grumpy judges pounded those deafening buzzers halting some poor contestant in their tracks. They were baying for blood.
The sound conjured up a talent show version of The Hunger Games, and it felt like one too. 
Least welcome post-show comment
After spilling out my guts on stage in a very emotional, technically challenging and vocally taxing show, where I'd talked candidly about my divorce, channelled more than 100 voices, ended with Beyonce and gone on a real 'journey', Mum's first comment was: 'Oh Poopie, you know, black makes you look very dowdy.'
• Jess Robinson's new tour, Here Come The Girls, kicks off in Glasgow on March 1. Click here for the dates. And this is what she can do:
Published: 13 Feb 2018
What do you think?