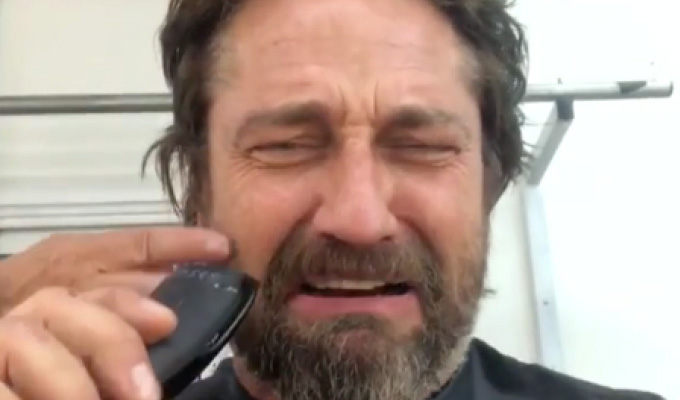 'I thought I could take a hail of arrows in the face and still look fit afterwards'
Adam Riches is performing his latest show, Inane Chicanery, at London's Soho Theatre from Monday. We asked him for his Unforgettable Five gigs… but instead got this reply from 300 star Gerard Butler (pictured above having a shave on Instagram). Weird, but here goes nothing…
First gig
Wasn't necessarily the first gig I ever did but it was probably the first where I thought 'Fuck me, I'm Gerard Butler', you know?
I was playing a guy called Leading Seaman in the Bond film Tomorrow Never Dies. Not-Sean actually gave me a great piece of advice. He said, 'Put your shirt back on and get out of my close-up'. I loved it. I got it translated into Latin and tattooed along ma johnson. 'Pone super camisiam ut ex meum prope est'
Well, I say tattoo, it's more of a gif.
Gig that taught me the biggest lesson
I think that would have to be 300, no doubt.
All my life I grew up believing I could take a hail of arrows right in the face and still look fit afterwards. Not so. I barely even looked textbook gorge.
Apparently back in ancient times, arrows hurt. I did not know that. I always thought arrows were there to tell you where to smile.
This movie changed that game and also THE game. It took so much moolah that I went from being just your regular common or garden Adonis into being an actor who could finally use his nipple as a headshot.
Gig that changed my life
300. As above. It changed my life to my death and yet here I am, kimono akimbo, stood talking to you.
I still get goosebumps when I think about it. Imagine me dying? A world without me? Wow. Life would be like one long state funeral.
Do you know how many times a day my agent has to tell me that I am not a ghost? 300. Coincidence? No. That's what I pay her for. That and making sure I save the President in every film I make. She's a gem.
She's been my representation in the business for two wonderful decades stretched out over three.
Best heckler
Well that would be me. Me and Bradley Cooper. From the Hangover Part Three?
I say hecklers, I actually mean supporters. We once went to a Wimbledon together wearing the same suit. I mean how fit is that? Sky blue to match his eyes and my balls.
We laughed, we cheered, we applauded whenever we saw something we liked, which was sometimes a good wee bit of tennis, but usually a camera aimed right at us.
I bloody love that guy to bits. I often get accused of spending too much time with Bradley Cooper which in my opinion is an oxymoron.
Best gig as a punter
I once sat and watched Bradley get dressed after a shower and hand on heart it was the best thing I have ever seen in my life. He just has this way with his body you know? And his clothes. He just knows instinctively what goes where. It's incredible.
I love that guy. I'm gonnae tweet him right now. 'Coops, Buts. Miss you bro. Cannae wait to see you and hug repeatedly whilst occasionally thumping your shoulder muscles. Love the way we are killing our careers and crushing being an earthling. Hashtag I love it. Hashtag he loves me. Hashtag Bradley Cooper. Hashtag Remain. Hashtag Scottish Independence. Hashtag or not, I live in LA. Hashtag Attack Gibraltar. Hashtag Hold the Door. Hashtag London 2012. Hashtag Gerry B is fucking killing it. Phew. Bonny!'
Now, on with the show.
• Gerard Butler is appearing in Adam Riches who is appearing in Inane Chicanery at the Soho Theatre from Monday January 22 to Saturday February 3.
Published: 19 Jan 2018
What do you think?