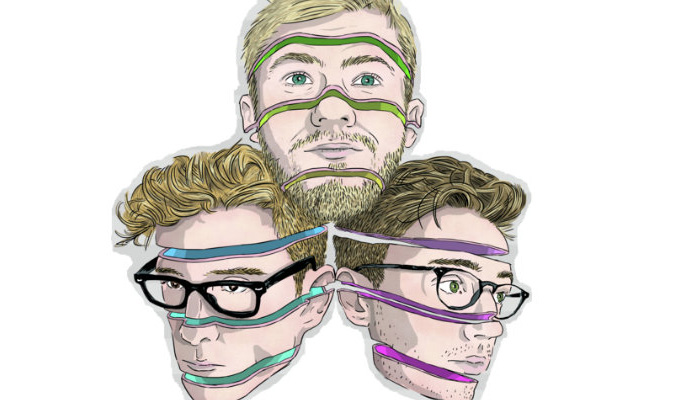 'The promoter wanted us to start wrestling'
First gig
Brighton Fringe, upstairs at the Quadrant. Our first real gig as a three and we were truly dreadful. We did a sketch about a sexy horse which was about as bad and pointless as it sounds.
One year later, a man who worked at Snax (the greasy spoon) in Edinburgh who by some incredible coincidence had seen the show in Brighton asked us if we 'still did the thing about the gay horse'. It's amazing what sticks.
Best gig
Two years ago we were lucky enough to be asked to do Shake With Laughter - a charity fundraiser for Parkinson's UK at the Comedy Store. We were by a country lightyear the most inexperienced act on the bill, it's the biggest comedy room we'd ever even seen and we were surely doomed to failure.
We sat in a cafe before the show literally shaking with nerves, had a pint of filter coffee each then went onstage to seeming bafflement from the audience. We made a stupid joke about looking like we work at the Genius Bar and a man in the front row offered us his phone which we stole as a gag.
That bit of crowd work saved our arses and the rest of the set was flying-by-the-seat-of-your-pants fun. We owe that overzealous man our lives. And his phone back.
Strangest audience member
Again, Brighton. We were previewing this year's Fringe show and, in a misguided bit of audience participation, tried to get an audience member to almost kiss Alex and then at the last minute slap him in the face.
Jamie fastidiously explained this to the lady in question, but when the time came to hit him, she just stared him down and tried to actually snog him, creating a weird (sexual?) energy in the room and, crucially, no laughs. Ah, Brighton.
Worst heckler
Guess where? That's right,
Brighton. Technically we weren't heckled by this particular arsehole (doing seven minutes of sketch comedy means you can normally avoid engaging any agitators) but we were on the bill and watched him wreak havoc with the rest of the gig.
Drunk to the point of obliviousness, he talked through everyone's sets with his wife/sister (this was never cleared up) until, at 1am, the final act did a hot five about how he was a consummate c*nt and the guy tried to slap him.
Security scooped him up, at which point 40 of the audience around him, whom no one had known where his close friends and family, stood and left with him, leaving five confused genuine audience, the tech staff and acts looking at the stalwart MC Phil Jerrod as he wrapped up a gig with a hole in it the size of a bus.
Most unusual location
We did some gigs in Heidelberg in Germany a few years ago that were mostly completely joyous. However, one of the bookings was for an outdoors street stage as part of the local literary festival.
Just off the high street at 3pm on a raised dais and no backstage. Mmmmm perfect comedy conditions.
Obviously no audience turned up. So the organiser suggested two of us literally wrestle in the street, start a fight and try and lure people in from the ensuing crowd. That is what the man in charge suggested we do. We did not do that.
• Princes Of Main: New Year's Eve, Bedlam Theatre, 21:30
Published: 25 Aug 2017
What do you think?