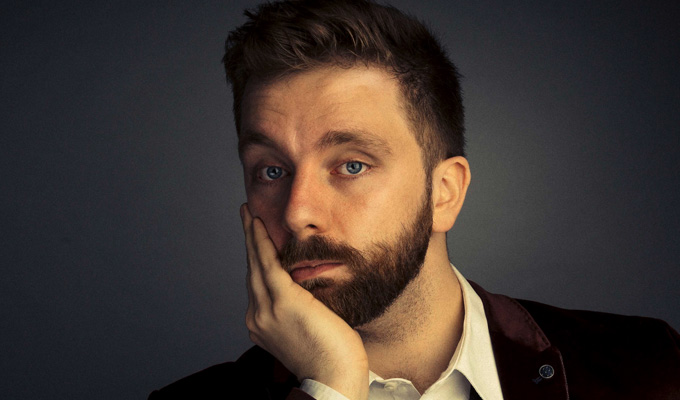 A disCERNing crowd
Best gig
This is a first-place tie, I'm afraid, between the following gigs. I performed in the Edinburgh Comedy Gala a few years ago and did well in front of about 3,000 people – as I returned to the wings Kevin Bridges was very kind about my set and said he'd keep an eye out for me. I have felt his presence ever since, Obi Wan-style.
Equally, getting to gig in with Adam Buxton in London and then hang out briefly afterwards with him was a huge high, as I've been a creepy fan of his since I was  in my early teens.
Worst gig
With each visit, Hull reminds me that they are not buying what I am selling. This particular gig was the mother lode (yes that is how it's spelled). I was the middle, youngest on the bill and had never gigged with anyone else on the line-up. The MC and opening act absolutely smashed it. The pressure was on.
I played to beautiful, pure silence. Only one laugh during my whole set when I dropped a local reference – the audience gushed relief as if they thought they were finally safe. They were not. I could hear ice clinking in the back of the room.
Strangest audience member
An older English lady during the 2016 Fringe – she'd come alone, been rude and confrontational to the venue staff before the show and insisted on loudly discussing Brexit with strangers in the queue.
I knew none of this, and in my opening I mention my enthusiasm for easy, visa-free travel. She kicks off, rambling about 'building a new country' and 'the people have spoken' and refuses to stop interrupting the show. I got the audience to vote for her to leave but she didn't respect their democratic right, so the venue staff had to usher her out.
Most unusual location
I'm fortunate enough to have gigged in the enormous wooden sphere opposite the CERN facility in Geneva. During the day, we all got a tour around the Large Hadron Collider and got to look at an anti-matter generator – all of which I enjoyed as much as my high school physics would allow.
The crowd was made up mostly of CERN researchers and students, UN staff, WHO staff and a ton of Belgians keen to see Lieven Scheire, who absolutely smashed it.
It's very satisfying to gig to fellow nerds and have the freedom to assume knowledge.
Gig that taught me the biggest lesson
I'll keep this deliberately vague. A while ago, I was working a Saturday in a central London club when we all heard that a very famous American comedian would be dropping in to try new stuff.
I was obviously excited and keen to see this person, up close, doing new in a foreign club rather than a stadium full of fans on home turf.
There were one or two gold lines in there, but mostly this comedian died on their hole in a pretty brutal manner for the whole 15 minutes. The lesson: you are NEVER safe, NEVER stop trying.
Pierre Novellie, Pleasance Courtyard, 21:45
Published: 20 Aug 2017
What do you think?