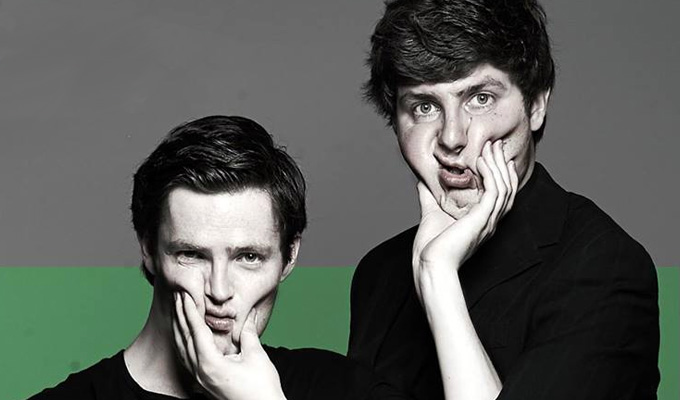 Duped by a bogus TV producer
Thunderbards are Glenn Moore and Matt Stevens. Here they recall their most memorable gigs:
First gig
Above a pub in Sheffield in 2011, back when we were still students. It was a room packed with our friends and we had the nerve to do a full hour show. Our first ever gig was a full hour. What on earth were we thinking? It can't possibly have been good.
Worst gig
There was one show towards the end of our run in Edinburgh two years ago which wasn't going all that well. The real cherry on the cataclysmically horrible pudding was during a rare moment of solo performance, where Matt was alone onstage and had a sudden, catastrophic nosebleed, leaving audience members looking horrified. Oh well, at least the awards panel was in that day.
Gig that changed our lives
The inaugural London Sketchfest in Spring 2013. We were still pretty new to London and quite naive, comedy-wise. We'd committed to taking our debut show to Edinburgh later that year and the brilliantly organised Sketchfest was an excellent gig that convinced us we could really do our Edinburgh show and make some sort of success of it.
The festival judging panel made us runners-up that year and we got reviewed in a couple of national papers which was incredibly helpful for our first Edinburgh. That night definitely changed things.
Strangest audience member
During our first Fringe run in 2013, this guy came to see our show four times (I mean, already: fucking hell) . He introduced himself on the second visit, saying he was making a TV show in America and wanted us to be part of it.
We naively, and excitedly, agreed - he seemed vaguely legitimate, but that might have just been because he had an American accent. The legitimacy was partially undermined by the fact that he was always - inexplicably - soaking wet. Like, regardless of the weather.
He said he was in talks with an exec at NBC, and that things on this TV show were going swimmingly. He forwarded us their e-mail chain, and each of the exec's messages ran something along the lines of, 'How did you get this e-mail address?' We cut off contact pretty immediately.
Best gig as a punter
In terms of gigs we both went to, Hans Teeuwen at the Edinburgh Fringe in 2010 was incredibly formative. It was our first view into the weird world of brilliant fringe comedy.
• Thunderbards perform 4nd at Gilded Balloon: 15:15
Published: 19 Aug 2017
What do you think?