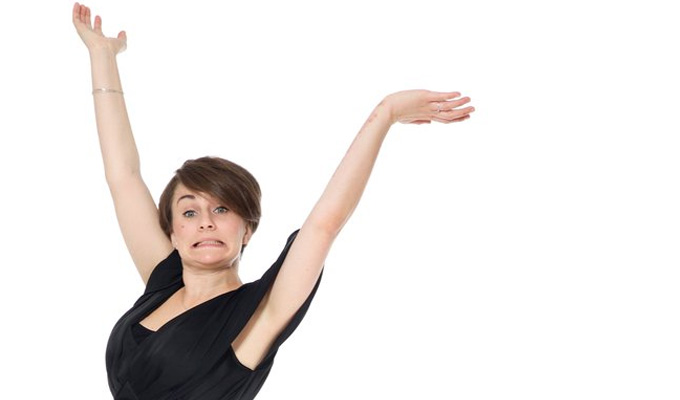 I've gigged in a Slovakian launderette...
Best gig
My best gig ever was earlier this year during Bent Double at Komedia in Brighton... some kind of alchemy happened that night. For some reason the fates collided and the audience were ready for what I had, and my mouth and mind were working efficiently enough to say it. I felt like I was weightless; the whole gig felt like a dream. All buoyant and confident. I came off thinking; please let there be more of those hidden in my future.
Gig that changed my life
For a short while I supported Russell Kane on his Posturing Delivery tour and one of the gigs was in Venue Cymru. It was the biggest venue I'd ever gigged at and had an enormous stage, just like what you see off telly programmes. I had a really, really lovely gig and just came off thinking: 'There's no way I can't chase that, now. That's what I want.'
Gig that taught me the biggest lesson
I died on my ripe behind in Camden one night where I was doing the unpaid middle 10 as a try out. I was AWFUL and I came off with that feeling like everything I'd ever done needed a wash and an apology.
I was so nervous about it being a London gig and having an audience used to much bigger names than me. Mick Ferry was in the green room and he explained that it was up to me to go out and not ask the audience for their permission; to trust I was funny and take it to them.
I used to truly believe the audience was a homogenous, single thought entity that could decide en masse to dislike me without it being my fault, but since then I've thought differently.
Most unusual location
On a little mini tour of the Czech Republic and Slovakia I gigged one night in a launderette! It was such a good venue just tucked in a room behind all the machines... it had a bar and a proper little gig room. It was full of expat New Zealanders and they were great fun.
Worst gig
I won King Gong at The Comedy Store a few years ago and got invited back to do a ten-minute spot on a normal night, but I was hopelessly under experienced to be doing it. I reckon I had two good jokes, three rhythmic sentences that could pass for jokes and then about 8.5 minutes of waffle. Oh, it was so painful.
Owner Don Ward was scathing at best and I cried on Roger Monkhouse. Chalk that up as a win.
• Laura Lexx: Tyrannosaurus Lexx is on at Just the Tonic at The Mash House at 14:20
Published: 18 Aug 2016
What do you think?