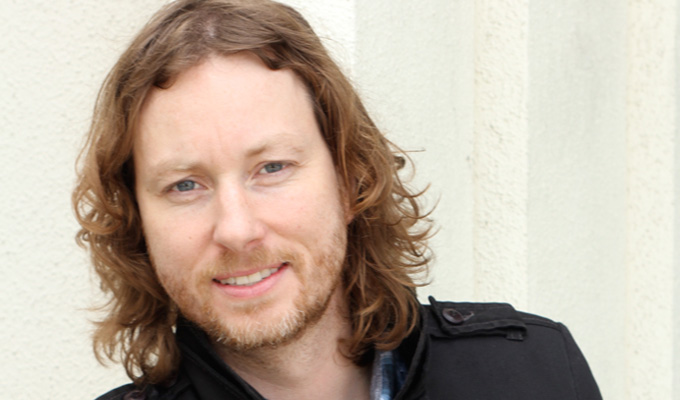 The night I had a gun put in my face...
1. First gig
My first gig was at The Stand Comedy Club in Edinburgh in 1998. I had just arrived in Scotland on a two-year young person's visa from Canada. My plans were to travel around Europe hopping from job to job and country to country until the need for responsibility kicked in and I'd return to Canada to pursue my masters degree.
On my second night in town a couple of my new friends invited me to come along to a comedy show at The Stand. Frankie Boyle headlined with a killer Chewbacca impression, by the way. At the end of the show the compere issued a statement that I took as a sign: 'If anyone is interested in trying stand-up come and talk to us. At the end of our eight week class we'll let you do five minutes on our stage.'
'I had always dreamed of doing stand-up. I had told less than a handful of people because it seemed like such a ridiculous thing to want. There were no comedy clubs where I grew up in Nova Scotia. I actually always thought I'd go to University in Toronto to do my masters degree and that's where I would start doing stand-up as a little hobby. But here I was in a country where no one knew me so I could take all the chances in the world. I could reinvent myself. So, I went for it. After two weeks in their course The Stand rushed me ahead and threw me on stage to do my first five minutes. My first open spot. I was hooked. It has definitely become the love of my life.
2. Best gig
My best gigs are happening right now. For the last couple of years I've started working in the United States as a support act for my buddy Jim Jefferies. A young upstart, he's probably going to do OK in the business, LOL.
It might seem weird that my favorite gigs are ones where my name isn't even on the ticket but the places and situations Jim and I have been in for the last couple years have been incredibly fun. We've played some of the most iconic theatres in America. It's been a hell of a way to introduce myself to America. I even sang Nova Scotian folk songs with John Ratzenburger backstage at The Nokia Theatre in Los Angeles after a show. Imagine Cliff Claven telling me loves Nova Scotia! Still, that's not even my favourite...
Last year Jim and I opened for Guns N Roses in Las Vegas. Guns N Fucking Roses!! All of their equipment was on stage while we paraded around churning out our jokey jokes to 4,000 G'N'R fans. Nervous roadies staring at us from the wings. Angry eyes just staring at us with a look of 'you better not touch his piano, clown boy". What an amazing show.
The crowd at The Joint Hard Rock Casino loved us and even cooler, so did Axl Rose. After their show we partied with Axl and the band on the rooftop bar until 6am. It'll take me a while to knock that show out of my number one spot.
3. Worst gig
Ah, gig number eight! That was definitely the worst one. I still sometimes think back to myself hiding on the fire escape behind The Stand Comedy Club in the pouring rain and a shiver shoots straight through my body.
My first seven shows had gone well so I guess at this point I was a potent combination of overconfidence and inexperience.
I was once again at The Stand Comedy Club, the only stage I knew at this point. There was a crew of firefighters in for the show. Probably a group of about 12 to 15.
I don't remember how the heckling started but the way I immaturely dealt with it almost got me killed. I remember being called American at some point when the gig was already lost. Comedy had long since left the room.
I levied a bunch of insults back at these men and they did not take kindly to anything that came out of my face hole. I had to be ushered out the back door of the club and hide because they had taken to the back alley to try and find me there as well. I just remember hiding up there in the pouring rain while echoes of: 'Where are ya, ya wee cunt!' clamoured from below.
I learned a lot that night, not least of which what it's like to have comedians as friends because back in the green room later they all found my near death experience hilarious.
4. Gig that changed my life
Hmmm. Well, the first thing that pops in to my head is my first open spot at The Comedy Store in London. Not even because of how prestigious and intimidating that gig can be for a young comic but because of the chain of events that it set off for me.
It was late 1999 and I was still living in Edinburgh but I had made a two-week trip down to London to do some try-outs at their clubs. I was hitting them all; Jongleurs, Comedy Cafe, Cosmic, Bearcat and of course The Store. Rich Hall was headlining the Store and we got to chatting backstage. When he found out that I was from Halifax, Nova Scotia ,his eyes lit up.
'Nova Scotia. I'm about to go there to do your comedy festival. You ever do that kid?'
'Well, no, I'm just kinda new. I wouldn't even know how.'
'Well, why don't you come with me. I'll get you a spot there.'
Three months later I was making my Canadian comedy debut at The Halifax Comedy Festival. 1,000+ people at the Rebecca Cohn Auditorium in my home town. The biggest audience I had ever seen. The same stage that I had watched so many bands on while at university. I had an absolute killer gig for my hometown and as I walked off stage Rich Hall was waiting for me.
'Hey, who looks after you back in England?'
'Like an agent?"
'Yeah, like an agent.'
'I don't have one. I kinda just look after myself I guess"
'Well, you're gonna sign with my agent.'
Later that week I did exactly that. Shortly thereafter I moved down to London and that's when my career really went in to high gear, I'd say.

5. Most dangerous gig
I had a gun pulled on me in Manilla in 2007.
In what was one of the biggest misunderstandings of my career, my fantastic tour of Asia came to a grinding halt.
Nick Wilty, Jeff Innocent and I had been touring for nine days at this point. We hit Hong Kong, Tai Pei, and Taiwan to name a few. The shows had been amazing. Now, we had flown down to the Philippines to do one final tour show in Manila.
I remember being on stage doing a routine about how awesome the Scottish curling team was to win gold at the Olympics. I had a Scottish roommate at the time who hilariously said after the victory: 'Oh great, we Scots finally win something and we have to call ourselves British!'. This was the basis for my whole routine.
Somehow, for reasons that still baffle me, a drunk group of Scots took offence to my joke. Pleading with them fell on deaf ears and on the balcony of the bar one of them decided to show me how much power he had in Manila by getting his security guard to put his gun in my face.
Thankfully the calm demeanour of Nick Wilty coupled with the bouncer looks of Jeff Innocent managed to get me out of the situation. One change of pants later and I was off with Nick to The Hobbit House to clear my head and drink A LOT.
That promoter has still never had me back. Too bad, it was just one of the weirdest misunderstandings I've ever been involved in.
That was a long flight home with one hell of a hangover and a new vision I'll never get out of my head.
• Jason John Whitehead: Fool Disclosure is on at PBH's Free Fringe at the Liquid Rooms at 20:45 (not August 12, 23)
Published: 4 Aug 2016
What do you think?