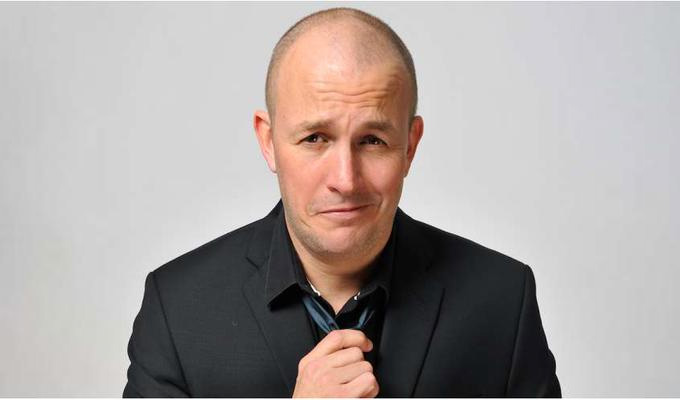 With no skills or charm, I just started screaming
First gig
I had the worst first gig ever: My parents and I relocated to the UK briefly after my sister and nephew had been in a car accident, losing her husband and kid. During which time my best friend shagged my girlfriend back home.
For some reason I thought this was a good time to start comedy: so with no skill set or charm I got on stage at an open mike night and just essentially started screaming at the front row from start to finish (That really didn't change much for about ten years).
After five minutes of making a room very uncomfortable, the MC waved me off, where I walked to the back of the room where, to make matters worse, my parents were in... wait for it... videoing the whole thing. As I walked past my Dad I asked: 'Please tell me you didn't record that.'
He replied, verbatim: 'Son, I stopped taping the moment the first tear of shame hit my cheek.'
Gig that taught me the biggest lesson
Probably the black and coloured university near the townships in Cape Town, South Africa. 'Coloured' means mixed race out there and is the polar opposite of a racial slur in that people get offended if you DON'T use it to describe them.
Anyway, this is where I learned that everything we're taught in the UK about different cultures and comedy is wrong. Every culture and sub-culture likes jokes at their expense, so long as there's some truth to it. Not lazy, mostly false stereotypes but genuine observations as an outsider looking in is, and always will be, the strongest comedy viewpoint.
I think our lack of interest in other cultures from the left and the right has led us to where we are now.
Best heckler
Best heckle I ever had was in Melbourne in 2003.
In our late twenties to early thirties I think many of us think we're changing the world. 
This was a great lesson. I was ranting, raving and perhaps overselling how controversial I thought I was being. As a set-up to a punchline I yelled: 'How many women in this room have a big cunt?'
A middle aged Melburnian woman, clearly growing weary of my rather spurious socio-political posturing, let out a huge sigh and went: 'Oh I don't know Brendon, I imagine all of us'
I cracked up laughing. I mean fell over laughing. For me it was her very maternal, very personal, unthinking use of Brendon
I've not always been the best at conveying that I take most of what I say with a pinch of salt. My comic stance has always been if you're going to pull the rug out from under people you should be standing on it too. But in the past, between being deaf and the cocaine, an aggressive delivery got in the way a lot, I'd say.
But in this moment it was the most successful heckle ever. Not only did she shoot me down but it actually changed my demeanour and the way I was performing. I then improvised for a good five minutes, the routine I figured, she figured I would have done. By the end of it she was in stitches too. 
Normally a crushing heckle can kill the show, but when it's that funny you have to run with it
Best gig as a punter
OK this is going to sound annoyingly hack, but one of the best gigs I ever saw was Bill Hicks in '92 in a circus tent in the Meadows. It was before he hit it big over here. But the first ten minutes was him riffing on 'I'm in a fucking tent'.
I sat in the front row on my own and as a young comedy obsessive I was laughing faster than most, so he did what I still do to this day and focussed in on the guy he clearly thought he was connecting with. None of that: 'Hey look at this dick on his own' nonsense. 
There was that and opening night of Death Of A Sails Man by Sam Simmons a few years back. My favourite current working comic. Just totally brilliant farce. So effectively chaotic that during the preview he'd forgotten a key bit in the middle: 'Fuck! None of this will make sense now. I had a great bit about me nan with some lasers,' he yelled while throwing cardboard cutouts of his Nanna around. I genuinely thought it was a part of the show. 
• Brendon Burns: Dumb White Guy is on at the PBH Free Fringe at the Liquid Rooms at 20:15 from Saturday; and Brendon Burns and Colt Cabana Do Comedy and Commentary To Bad Wrestling Matches is on at Pleasance Dome at 22:45 from tonight
Published: 3 Aug 2016
What do you think?