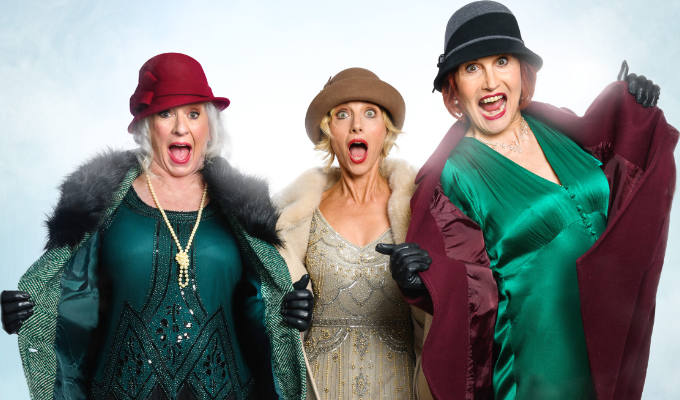 Fascinating Aida: The 40th Anniversary Tour
After 40 years, fans know what to expect from a Fascinating Aida gig by now: impeccably intricate songwriting, slick, elegant performance and lyrics that undermine that superficially genteel cabaret aesthetic with smut, mordant observations on life and embittered political barbs. All are present and ​correct in this celebratory mix of greatest hits and new material.
At 71, indefatigable founder Dillie Keane deserves national treasure status for four unflagging decades of telling it like it is, while maintaining the grouchy hangdog demeanour that trying to entertain hoi polloi like us really isn't worth the effort.
Her style contrasts with the perkiness of Liza Pulman – the baby of the group in her mid-50s (and whose powerful soprano is often the musical engine room) – and Adele Anderson's more waggish demeanour. On keys when Keane isn't, Michael Roulston is the archetypal cabaret posho, full of mannered bonhomie.
'Let's get it over with,' Keane sighs as she introduces 'a medley of our greatest hit', Cheap Flights. The bitingly grumpy potshot at being taken in by Ryanair in the style of an Irish folk song made the trio an internet sensation a dozen years ago. But if you think 6million YouTube views translates into a young audience, you'd be mistaken – the auditorium at Kingston was an ocean of grey.
The opener, combining their tracks We're Next and We're Not Done Yet surely spoke to that crowd, a darkly witty acceptance of death with laughing its face and saying sorry/not sorry to younger generations for having screwed everything up for them. Enemy Of Beauty, giving reasons to resist the lure of plastic surgery, is also a robust celebration of self-acceptance.
The bitter-sweet tone of Widows, about the social ostracisation of the recently bereaved, is even more poignant if you knew Keane lost her partner of 22 years last summer, although she never mentions it. An oblique reference introducing an even more plaintive song about packing up a house later in the show is as close to direct soul-baring as she gets. Though The Blues Got A Skeleton Key is another earnestly sad song.
Generally, the trio tend to pour their scorn outward, from the arcane trivia immigrants are supposed to know for their citizenship test to Sally Rooney novels to the venal Tories.
Britain's political shitshow is a constant. The Bulgarian ditties section allows for ultra-topical verses, from King Charles's birthday to David Cameron's comeback to Esther McVey being appointed 'minister for common sense'. They are saying what we are all thinking, in the most direct of ways, but the immediacy of the reaction is potent.
Elsewhere, the familiarity of their greatest hits is the selling point, including the playfully filthy Dogging; Kangaroo, imagining which creature they wish to be reincarnated as; and Lieder, the carefully choreographed Weimar cabaret pastiche that displays a physical humour that belies the older members' ages.
Other musical influences range from Eric Idle to Kraftwerk – in a song about artificial intelligence – to Gilbert and Sullivan, with Sir Arthur kindly donating a melody to their track A Tory MP, listing all the despicable ingredients that go into such a monster.
Sometimes their references can be old hat, from Dignitas assisted suicide to Morrissey being the singer of miserable tunes. The track Down With The Kids leans into that, with cringey slang and awkward hip-hop moves in an attempt to prove they have a contemporary relevance – but the jury's out as to whether the self-parody quite comes off or not.
But it's always executed so artfully, with tricksy rhymes a special delight, from 'sleet falls' to 'meatballs' or 'abject failures" with 'Sibelius' both in the same song about Scandi-noir thrillers.
So if some of their satirical edge seems blunted, Fascinating Aida have few rivals in merging apparently refined cabaret with comedy sensibilities. And The 40th Anniversary Tour its share of funny lines and an undeniable commitment to being entertaining, whatever it takes. Apart from Keane ever breaking into a smile, of course.
» Fascinating Aida: The 40th Anniversary Tour dates
Thanks for reading. If you find Chortle's coverage of the comedy scene useful or interesting, please consider supporting us with a monthly or one-off ko-fi donation.
Any money you contribute will directly fund more reviews, interviews and features – the sort of in-depth coverage that is increasingly difficult to fund from ever-squeezed advertising income, but which we think the UK's vibrant comedy scene deserves.
Review date: 15 Nov 2023
Reviewed by: Steve Bennett
Reviewed at: Rose Theatre