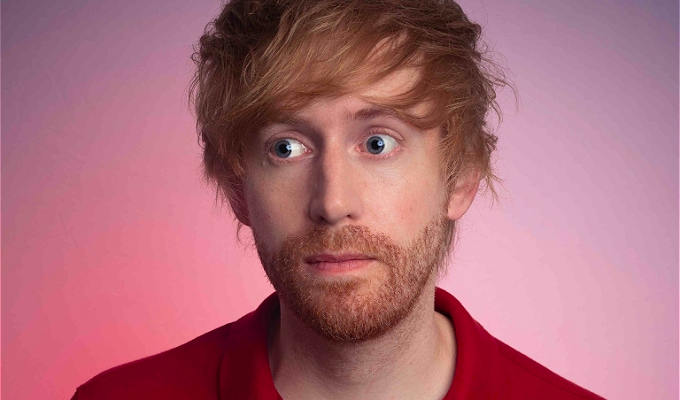 Mark Simmons: Quip Off The Mark
In the age of superstar comedians emerging from nowhere – or rather TikTok – Mark Simmons has been doing things the old fashioned way: relentlessly gigging and writing jokes.
Certainly he's got a podcast, some social media presence, and a couple of appearances on Mock The Week (RIP) under his belt, but it's in the live arena where he's been building up an audience, with this Quip Off The Mark tour having expanded to more than 120 dates.
And his slow-but-steady rise is entirely in keeping with his unassuming comedy. Simmons is a mild-mannered chap who just likes crafting silly one-liners. He comes across as genial if slightly naive – verging on the dim-witted, you might think, if the craftsmanship behind the jokes did not reveal his idiocy to be just an act.
There's a wide-eyed innocence to his material, even when he's joking about blow jobs or incest. It's just daft wordplay, nothing more. 'This is a silly one,' he says by introduction to one gag, as if we need telling.
Simmons takes to the stage carrying two boxes of Red Bull, unmentioned for absolutely ages. He's not afraid of a very long set-up, a fact also demonstrated when he frantically looks for a piece of paper, shows us several pictures of his girlfriend, or asks after the heights of many, many audience members before finally relieving the tension of what the nonsense was all about.
All this comes as proof of his commitment to a joke – as does bringing three art canvasses to every gig for the sake of a single pun.
But while some jokes are extended, many are super brief. You have to admire the efficiency and silliness of a four-word gag like: 'My tapestry exam's looming', which works even better in real life than in print. Such quotable punchlines make him a shoo-in for the 'jokes of the Edinburgh Fringe' list every year he's at the festival.
It's a set of mostly benign puns, some read from a book, many from the top of his head. A party trick is to go along the front row and proffer a gag about everybody's – well, almost everybody's – hobby.
Things like this, and a device in which he shares advice other comedians supposedly gave him, provide the show some texture, lest the show be a relentless drumbeat of one-liners with an identical rhythm.
He's not one to reveal much about himself or his opinions – and when he does proffer something, we don't fully believe him. Is that a real ailment he's mentioned or the set-up for a gag? Or both?
He comments on the way that different jokes land with different people. Indeed, some will do nothing for you, but others will tickle the funny bone just right. And tickle you is the right word for his gently teasing manner.

There were some strange audience interactions tonight – not always at his own instigation – and he's less assured when he can't reach for a prepared pun. But his low-status vulnerability – exemplified by the way he looks coyly pleased with himself when a gag comes off – offers a lot of charm.
Simmons material may not be challenging or ground-breaking, but the mix of intricate and corny gags are served up delightfully, offering an easy hour of daft, forget-your-troubles stand-up.
The show was opened by his friend, and partner in podcasting, Danny Ward – another comic not afraid to use props in his act. He describes himself as a 'tat-aholic' for all the crappy, useless gadgets he picks up, and shares with us tonight.
The second part of his set is a long routine about Britain's Got Talent, less reliant on laughs than revealing the behind-the-scenes frustrations of being a contestant. Although the news that David Walliams and Amanda Holden lack empathy with those on stage will come as no surprise. But Ward's initially rather cool delivery becomes increasingly animated at the traumatic memory of that day, to decent effect.
Thanks for reading. If you find Chortle's coverage of the comedy scene useful or interesting, please consider supporting us with a monthly or one-off ko-fi donation.
Any money you contribute will directly fund more reviews, interviews and features – the sort of in-depth coverage that is increasingly difficult to fund from ever-squeezed advertising income, but which we think the UK's vibrant comedy scene deserves.
Review date: 10 Nov 2023
Reviewed by: Steve Bennett
Reviewed at: Leicester Square Theatre