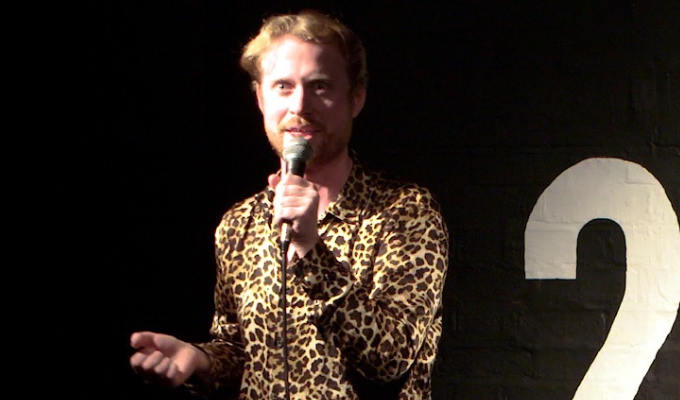 2Northdown New Comedian Of The Year 2022
The same faces often pop up across multiple new act finals, but the competition run by London venue 2Northdown finds a fresher batch of funny than most. And the 12 who made it to the final – whittled down from around 400 entries – ensured a very entertaining evening.
Opening act Adam Flood showed commitment to the comedy cause with a haircut that gives him punchlines, if few points for fashion. He's also invested in an electronic pitch-shifter to zhuzh up his lockdown-inspired song. This, and his 'indie banger' are gimmicky, but fun, as he's certainly got the entertainment gene. Flood also showcased some useful bits of stand-up too – especially his sarcastic reaction to being 'let go' at work –and it would have been nice to see more of what he could do without the semi-musical assistance. But he's a proven crowd-pleaser who secured the silver tonight.
Aisha Amanduri offered a playful yet pointed reversal of old white men finding her 'exotic'. She barely touched on her Kazakh background, which might offer another rich seam if she chose to exploit it, but instead focussed on a sex-positive set… or 'being an aspiring ho' as she put it. It's an appealing mix of upfront attitude with mischievous undercurrent, that needs a little polish but is very promising.
Dane Buckley is 50 per cent Irish, 50 per cent Indian, and about 150 per cent gay. In fact, he risks defining his whole personality by his sexuality, hoping a camp flourish is enough to sell dubious innuendo and contrived imagery. Sometimes it is, but his writing is often unsophisticated – though he elicits some good laughs from his mother's malapropisms – and he has a cracking singing voice.
Elaine Fellows makes much of not matching up the image of the buttoned-up middle-aged mum you might expect of someone with her first name. In fact, she better fits a different cliché, that of the brassy Northern woman –friendly but suffering no fools. It's a trait she appears to get from her no-nonsense mother, given the amusing tooth-fairy-related story from her youth that she shares here. The result is in an underplayed bluntness that she harnesses well for her conversational style.
Next came the first of two Tothill brothers on the bill: George, desperate to shake off a low-status vibe to insist: 'I'm a fun guy!' Although his attempts to be more outgoing seem doomed, he's able to process his failures with some wry and witty jokes, delivered deadpan but with an impish glint. He's a smart, ironic gag-writer worth keeping an eye on.
Ironically for a set frequently based around the size of her boobs, Jasmine Morton's material is a bit one-dimensional: lots of unabashed sexual content which rarely gels into a strong punchline. Her directness and engaging manner ensure her seven minutes is watchable… but it's also a bit forgettable.
Tothill No2, John, could well be the first comedian ever to reference Hobbesian economics on stage. But don't be deceived – this is not a wilfully erudite set, rather a portrait of how he's a 'dogshit' teacher, bested by the nine-year-olds allegedly in his charge. A breezy, camp delivery – including gushing praise about the attractiveness of the audience – sprinkles a little glitz on the routine, too, making it all the more entertaining. Enough, in fact, to secure him first place tonight, and few would dispute that he earned it.
Third placed Kyrah Gray is one to watch too, as she has a compelling stage presence: easygoing yet with a natural vibrancy that buoys the room. The charisma is backed with solid material as she talks about her experiences on the dating scene including – ugh! – going out with a white English dude. It's all great fun and you'll want to spend more time in her winning company.
Rohan Sharma brings an entirely different energy. Socially awkward both on and off stage, he's a little too low-key to probably engage, although he is a better writer than performer. Gags revolving around his Hindu father, how Indian men are rarely seen as desirable on the dating scene, and being brought up in Australia are robust, but under-sold.
Sam Williams – runner-up in last year's Chortle Student Comedy Award – is a lot more upbeat, with a very confident, lively delivery of light but enjoyable stories of his bisexuality, growing up in tedious Maidenhead and loving Ariane Grande. The set is more personality-led than gag-led, but there are punchlines behind the presence..
Shalaka Kurup joined the on-off theme of the night in mucking about with stereotypes, especially the spirituality and wisdom of Gandhi assumed of all Indian people. And while she presents herself as well-mannered and strait-laced – a doctor by day – her material has a more bite and naughtiness. A well-constructed set and air of easy professionalism appeal.
Finally Will Owen, sharing his deepest fear… that anyone would think him heterosexual. He's probably got far too much semi-ironic sass for that ever to be an issue, even before sharing his experiences of the dating apps and his aloof distain for the straights and their 'bantz'. Even though a camp approach had been deployed several times already tonight, Owen had more than enough withering attitude to stand out.
Review date: 30 Nov 2022
Reviewed by: Steve Bennett
Reviewed at: 2Northdown