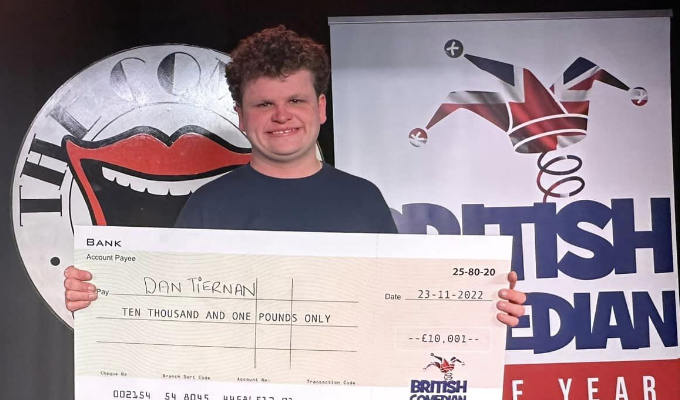 British Comedian Of The Year 2022 final
The British Comedian Of The Year competition may have temporarily lost its status as the most valuable prize in stand-up, thanks to the unlikely intervention of OnlyFans, but it retains its unique position of being open to comics at any level. And the £10,001 prize – a quid more than the Edinburgh Comedy Award – is tempting enough to attract circuit stalwarts such as last year's winner, Jeff Innocent.
Yet the opening act in the 2022 final at London's Comedy Store has been going for just seven short months. Initially, it was a little difficult to quite see how Kev Mud had pulled off the achievement of getting this far, kicking his set off with some cheap props – literally hiding behind a gimmick – and fifth-hand pub gags.
But once he got talking about himself, the set ramped up several gears. The takeaway is that he used to be homeless, and he mines those unusual experiences to extract laughs with charm and wit. He brought the same qualities to a silly routine, drawing analogies between his two main loves: biscuits and sex.
He occasionally grabbed some low-hanging fruit, which he'll hopefully leave behind as he racks up more experience, but he definitely made a mark as one to watch tonight, despite the competition of far more experienced names.
However, Mud was followed by another newish comedian, Serena Smart, who lent into the archetype of a well-spoken woman making quips about gap years and worried about saying anything unbecoming in front of her mother, who was in the audience. So, of course, she ended up talking at length about sex and dick pics in a set she acknowledged as 'slag-heavy'.
She has a few very funny lines – her nickname for her ex proving unusually sharp – but while effective, it's not especially memorable material. More distinctive was her embrace of corporate life, feigning to embrace capitalism and cryptocurrency so thoroughly that their absurdity was made obvious without the need for parody.
Steve Gribbin has been on the comedy scene for the best part of 40 years, so knows how to entertain. He's a musical comic who changes the lyrics to songs, which may make many stand-up purists' heart sink. But what sets him above that fray is his genuine rage and bitterness towards an unfair society.
So he doesn't hold back in reminding the audience that political failures led to people dying of Covid, of the Saudi murder of Jamal Khashoggi, or the brutal human price of the cost-of-living crisis. But because all this is set to familiar Top 10 refrains, it's more jaunty than it has any right to be.
Gribbin's anger drives the energy, while he also displays an effective comic physicality and occasional flashes of surrealism – evoking the image of a 'coked-up Geordie eel', for example – to add to the relative simplicity of the musical blasts.
Andrew White makes an impact in his zebra-print jacked… but even more so with his waspish material, which draws heavily on his sexuality. There weren't many gay folk in Salisbury growing up, so he's making up for it now with stories of turning people straight, old folk using Grinder and being a musical theatre fan at the football.
He's not pushing envelopes with much of this, but there's a good showing of decent jokes. And even more importantly, he effortlessly projects a cheery, charming persona that wins over the crowd – who rewarded him by voting him into third place on the night.
Charm is also the watchword for Leah Davis, an elegant, controlled performer whose butter-wouldn't-melt demeanour is a front for some dirtier material. But Davis, who's also a presenter on Capital Xtra, is perhaps a bit too chill to be exciting, however beguiling the performance.
She talks about 26 being too young an age to be married – but it's not exceptionally so – and makes some tongue-in-cheek jokes about the age gap with her husband, when it's only two years, but extends the gag beyond the initial irony. It takes a similar suspension of disbelief to buy into her premise that the escalators on the London Underground are a hotbed of sexual activity.
As a double Edinburgh Comedy Award nominee Larry Dean must have been one of the favourites to win even before his barnstorming set. His shtick is 'this is how Glasgow does gay' – a little bit intimidating, a little bit unpredictable. Those happen to be fine qualities in a stand-up too, if harnessed as well as they are here, in service of his cheeky persona.
Dean's a dynamic performance powerhouse, slipping into English accents to mock this audience and doing a Gollum impression that's so physically and vocally on the nose that he's forgiven for doing what could be considered hack, especially as he deploys it in a self-effacing dating story. That's just one of many tales – including a hilarious one about his ex's over-reaction to farting in bed – packed into an animated set that enraptured the room, and established him as the act to beat.
Jack Gleadow's an unabashed crowd-pleaser, with something of a Butlin's energy, but with a very winning way about him. The old-fashioned variety vibe includes jingles and references to ELO, who definitely haven't had a hit in his lifetime, but Gleadow absolutely owns the cheesiness
In a routine that's long been his calling card, he brings a couple of punters on stage for a few visual gags. Although it wasn't the most slickly engineered way I've seen him do this, he's got more than enough jaunty enthusiasm and low-status charm to jolly everyone along and ensure a good time is had by all.
Taking that energy and turbocharging it even further was Dan Tiernan, hot off his success at the BBC New Comedy Award earlier this month. He has an insane nervous energy, simultaneously disconcerting and exciting, and given his erratic physicality, it comes as no surprise when he reveals he has dyspraxia.
That gives him licence to tell some very near-the-knuckle jokes about fellow neurodiverse pupils at his school, which are all the funnier given how inappropriate they are. But although he seems to splurge out material like an untethered hosepipe, there's method to his madness too – subtle beats like the contempt in which he drenches the name of his mum's new partner, or a nifty reveal with a prop, can only come from practice.
He's a real force-of-nature comic who sweeps the room up in his exhilarating performance into a frenzy of laughter. Poor Larry Dean must have felt the £10,001 slipping from his grasp during Tiernan's set – and so it was to be. The newer act took the prize purse, but by the narrowest of margins, just one per cent of the vote.
Compere Paul Revill should have calmed the room after such a nuclear-level performance, but just pushed straight ahead, leaving Ian Stone to rebalance the audience to his lower-key energy. He did so with a savvy callback and a masterful command of the atmosphere that a 30-year stand-up career gives you.
While most acts tonight brought out material honed over years, Stone served up topical gags taken from the overactive news cycle of the past couple of months. Smart lines about the Qatar World Cup and the Tory leadership debacle gave way to a celebration of the British people's propensity to curb any enthusiasm or glee that struck a chord with the crowd.
The wry Stone was unlikely to succeed against some of the higher-impact comics on the bill, but this was a slick, skilful and relaxed set from a man very used to being on the Comedy Store stage.
Review date: 25 Nov 2022
Reviewed by: Steve Bennett
Reviewed at: Comedy Store