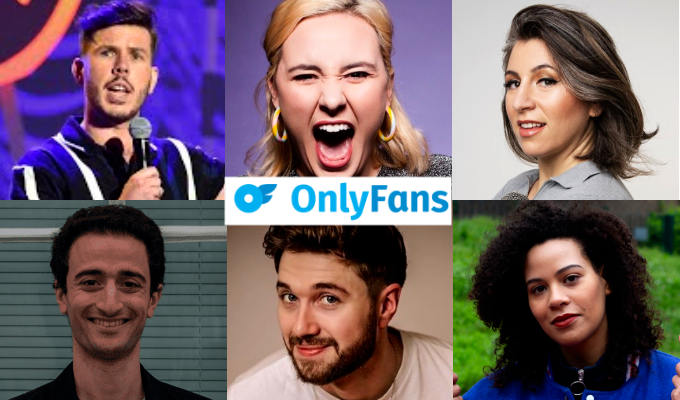 Only Fans comedy talent hunt
The British Comedian Of The Year competition, which has its final at the Comedy Store in London tomorrow night, claims its £10,001 prize is the biggest in UK stand-up. It's a claim we at Chortle even repeated in our round-up of the week's best live comedy on Sunday.
But, in 2022 at least, it's not true. Not by a whole order of magnitude.
For in a bid to expand away from its image as a conduit for home-made porn, OnlyFans has launched a comedy 'creative fund' with a £150,000 prize fund – £100k for the winner, £25k for two runners-up. You probably wouldn't bet on that being enough to overturn the site's reputation, but you can't deny that's a generous contribution to kick-starting a comic's career.
There were some hoops to jump through. This wasn't a straightforward stand-up competition but contained some reality TV-style elements: writing sets for each other, voting each other off, and being ordered to write the most depraved material they could, not knowing they would then have to perform to an audience of pensioners.
The final, in East London's Hoxton Hall, was a more straightforward affair. Although it takes a lot of getting used to host Jack Guinness – the well-connected model turned fashionista turned founder of The Queer Bible website – asking the audience to welcome the next 'creator' to the stage, never 'comedian'.
We are also never told their surnames – which seems a fatal flaw if you're trying to launch someone's career – and most weirdly, and anticlimactic – the audience are heralded out before judges Mae Martin, Jamali Maddix and London Hughes made any decision about a winner. The name will be revealed when the show goes out on Only Fans' OFTV platform, scheduled for early next year – which is a long time for one of the acts to keep a six-figure secret.
First up, Dominic McGovern leans into the 'Surprise! I'm gay' shtick, though his campness ensures no one is shocked. He's not someone who'd say he was into exercise, for example, when he can say a 'slut for yoga'. There a few good lines about dating a doctor but the Catholic fetishisation of a buff Jesus is a much-mined topic, which he doesn't take forward – although he sells it with a jaunty likeability.
Meanwhile, mentions of his anxiety, depression and OCD seem superficial, like he's ticking off what he's expected to talk about – especially as he determines with a straw poll how widespread such issues are among the audience. He can write a decent joke and has a thoroughly engaging vibe, but the landscape of his routine feels too generic, like he's following a how-to manual rather than speaking from the soul.
Maddie HW (Houlbrook-Walk to give her full name) is another high-impact performer, the sort of woman who seems like she's always 'on'. Indeed, some of her set revolves around how she'd make jokes during sex – much to the chagrin of her girlfriend.
She grumbles about the relentless drain of her day job, offloading complaints about colleagues that seem like they've been a long time brewing, all to pay for a miserable place in London's broken property market. On this topic, the Australian emigree has a BonnieTyler-inspired song to sing – badly, as if she cares. It's hardly artful but as with so much of her set, it's is bounced along by the strength her relentless, vivacious personality.
Zoe Brownstone opens with a strong volley of short, strong and often quite harsh jokes… and it can't be any coincidence that the harsher they are the funnier they are. She'll slag off the Dutch as trash – she did live among them – use her Jewish background to get away with some Anne Frank quips, and not even bother with any caveats for the Catholic paedo gags.
The blunt-speaking Canadian takes her foot off the gas a bit when talking about smoking dope, while her body-image issue lead her into talking about her 'lazy nipple' in a section that's less gag-driven but conjures up some amusing images thanks to her savvy phraseology.
Hasan al-Habib has a very tight set based around the everyday racism he's encountered – which is an almost bottomless source of material. From people who can't be bothered to learn his name, to the enduring myth that Muslims are waging a 'war on Christmas' and on to those who think he's a terrorist who would go to the 9/11 Memorial for all the wrong reasons.
The attitudes are ripe for pillory, which he does very effectively, through a slick, punchy, pacy delivery and engaging no-nonsense presence. And he even gets to show off his accents, most notably Jamie Carragher's Scouse.
Accents proved a neat segue into Joe Bingham's set, which kicked off with the derision heaped on those from his native Birmingham. He was the lowest-impact comedian of the night and many of his wry and self-deprecating stories had a long drop to the punchline, though he's charming enough to keep the audience engaged with tales of being brought up by a single mum, noting how the East End had changed from its gangster past, and picking playlists for sex, which garnered a noticeable ripple of recognition.
Some of his routines are a little straightforward, simply describing the TV makeover show 10 Years Younger is enough to expose how cruel it was, while the extended metaphor for life involving The Sims game was way too obvious, though well-received.
When I saw Mary O'Connell in the Funny Women final a couple of years ago, I wrote: 'When her writing catches up with her compelling stage presence, she could be a force to be reckoned with'.
That day seems to have come, as she wowed the crowd with her mix of dismissive 'what is this bullshit?' attitude, relatable observational comedy about the minutiae of office life and the dating scene, and a judicious use of the race card when it suits her.
Serving up unique perspectives on the everyday with edge and attitude, I'd expect her to walk away with at least one of the big-money OnlyFans prizes. But to find out if she does, we'll have to be patient.
Review date: 22 Nov 2022
Reviewed by: Steve Bennett
Reviewed at: Hoxton Hall